Shopping Cart
Your Cart is Empty
There was an error with PayPal
Click here to try again
Thank you for your business!
You should be receiving an order confirmation from Paypal shortly.
Exit Shopping Cart
| | |
| --- | --- |
| Posted by Eilis on July 11, 2011 at 3:35 PM | |
I feel very fortunate to be blogging about Chapter 12: Using Shared Reading to Support Emergent Readers. Shared reading is really one of my favorite activities in Pre-K. Ask anyone I work with, my walls are always covered in songs or poems either written on chart paper or displayed in pocket charts. Reading (and often singing) these materials together as a class is a fun part of our daily routine.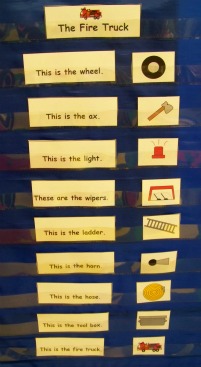 (The Fire Truck pocket chart text was printed from Makinglearningfun.com.)

I love  Fountas and Pinnell's wording: "shared reading offers groups of children some aspects of the lap story. All can see the art and the text, which is enlarged, and they benefit from the high support of unison reading. The experience provides a pleasurable model of reading and builds a sense of community." Yes! In a nut shell, "children interact with and examine the text as you read instead of just listening to the story and looking at pictures."
I believe that shared reading allows each child to pick up skills needed for reading at his own pace without any pressure. It naturally meets the diverse needs in a Pre-K classroom where one child is being introduced to letters for the first time and another child is starting to read words. While a large group of kids may be following along on the same text at the same time, one may be noticing that one word starts with the same letter as his name, one may grasping the idea that text flows from left to right, and another may be blending a c-v-c word. They are engaged at their own level and enjoying the comfort of participating with the group.
Last March (rodeo time in Texas), our morning shared reading was a song written on chart paper: "There is a state, It's the Lone Star State, and Texas is its name-o, T-E-X-A-S, T-E-X-A-S, T-E-X-A-S and Texas is its name-0." The kids loved singing it together so much that they begged for opportunities to sing it alone while I pointed to the words on the chart.
I have created a pocket chart poem of the familiar "See You Later Alligator" rhyme to illustrate the authors' guidelines for a shared reading.
- The print should be very simple and easy to see.
- The print should be large enough for the whole group to see easily.
- There should be clear spaces between words and between lines.
- There should be a limited number of lines on a page. …You can sometimes add a picture at the end of a line to help readers remember the words (but don't leave out the word).
- There should be simple punctuation marks that the children can notice and use.
- Illustrations should be clear and simple and illustrate the meaning of the text.
Here are the first four lines of "See You Later Alligator." I created this printable to fit in one of the pocket charts available at Target this time of year for yes- one dollar.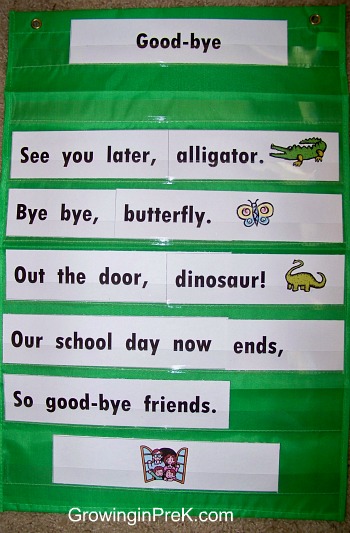 But wait, while you are there- buy two the same color. While the authors suggest starting with four lines, they also mention adding more lines later. So, this printable is designed for adding lines as the school year progresses. I use self-stick Velcro to attach two of these dollar pocket charts to create one long one. I plan to add one more line each week until we get to the complete poem. The beauty of this process is that you can incorporate as many lines as you feel comfortable with in your classroom. I think reading this poem at the close of each school day will also build classroom community

7/14 UPDATE:  Thank you for the great response!  I have now added the alligator printables to the the Printables page: 
http://www.growinginprek.com/printables.htm

(I will no longer be emailing the pdf).
Comments are still welcome.  Likes on Facebook are also appreciated.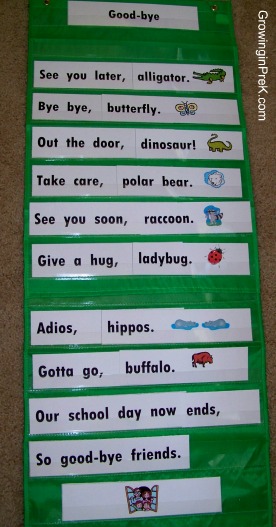 If you would like a copy of the printable, it will cost you… no, it won't cost money, but it will cost you a comment. I will email a copy of this pdf printable to everyone who posts a comment to this post related to "Shared Reading." Please share a thought about this chapter or something that has worked in your classroom. I will be able to locate your email address as long as you have become a "member" of this site (also free). (You will be asked for your email address if you post a comment and are not a member of the site, but I will not be able to access your email address.)
Okay, now I sound like a late night commercial, but if this deal is not good enough… I will also include a pdf for you to print as a book for your classroom. My kids love to have books like this that they can read independently in the book center.   This could also be a book that you read during closing circle each day. I suggest printing the pages and putting them in clear page protectors in a binder or three-prong folder.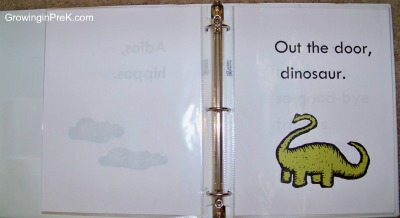 Years later, I still remember a wonderful college reading professor telling us about Marie Clay's observations in using big books with children who had previously had no experience with books. I decided right then, that big books would be a major part of my classroom. The authors also pointed out that while many children's books are being published in big book size, the ones that work best for shared reading are the ones with less text on each page. This gives the kids a better opportunity to "notice visual signposts." I really like the big book of Cookie's Week by Cindy Ward because it has few words per page and the kids can really follow along.
This is a link to the regular sized version so you can peek at a page:
http://www.amazon.com/gp/product/0698114353?ie=UTF8&tag=crea0b-20&linkCode=xm2&camp=1789&creativeASIN=0698114353

I was delighted when Scholastic Book Orders made a variety of big books available for a reasonable price (whether dollars or points) at back to school time last fall. I hope they will keep it up! Some of the very best big books are also the teacher-made ones.
I like going to teacher workshops where you take something free home and use it in your classroom.  I also love teacher websites and blogs with free printables. So…here are two simple shared readings texts that I have created to fit the Target dollar pocket charts. I suggest printing them on cardstock and then trimming them to fit.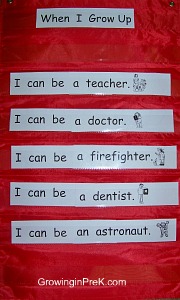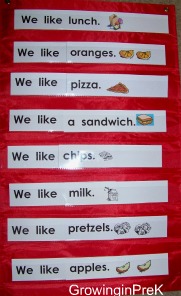 Click below to print them:
http://www.growinginprek.com//Shared_Reading_Lunch.pdf

http://www.growinginprek.com//Shared_Reading_I_Can_Be.pdf
(These files are supposed to print in landscape orientation.  For some reason when I print it straight from this website, it prints in portrait, so the print is too small.  If I "save file as" and then print, it prints correctly.  You may need to do this as well.)
The pictures are from Discovery Education Clipart. The simple black on white print and the illustrations at the end of each line are intended to facilitate shared reading in a Pre-K or Kindergarten setting. You can start with three or four lines and add more as your class seems ready.
In using these printables, please keep some other points the authors made in mind:
• Be sure that all the children can clearly see the print.
• Point using a long, thin stick, not your finger. (This one made me smile because once in a while I try to rush and use my finger .  In a minute, one of the kids always brings me my pointer).
• Keep the momentum going.
• Keep sessions short, gradually lengthening the sessions slightly as children's attention span increase.
In Figure 12.2 Steps for Shared Reading of Poems, there was one suggestion that I had not been doing previously:
Step 3 Teach children the poem, song or rhyme first (in absence of print) so that they can say it together. I will try this when I introduce "See You Later Alligator" this year. I have always introduced a poem with the written version, but I will try saying it without the written text first and see how this goes. I think this will be especially relevant at the beginning of the year since the kids won't be used to seeing a teacher point at written text yet.
Before I close, the authors also discussed using shared reading with an action poem. I was thinking that I had always kept action poems and shared reading poems separate. I just realized that I do mix them. One example is our Native American Thanksgiving Prayer with hand motions: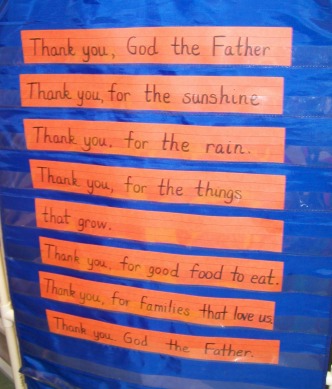 I guess the students and I can walk and chew gum at the same time after all…
I hope you and your class enjoy the "Lunch" and "I can be" free printables. I really hope you will post a comment about Shared Reading in your classroom so I can email you the two free printables related to "See you later alligator."
I look forward to hearing thoughts and ideas from all the wonderful teachers who are following along on this book study!
Vanessa will be covering Chapters 13 and 14 on Friday: http://www.pre-kpages.com/blog/
Blessings,
Eilis
Categories: Literacy Beginnings, Printables
/