| | |
| --- | --- |
| Posted by Eilis on June 27, 2011 at 6:15 PM | |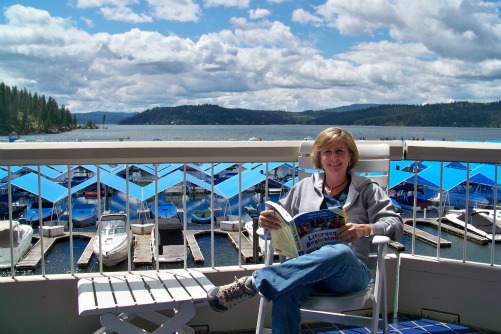 The Literacy Beginnings Blog Book Study has begun!  Check out Vanessa's blog today as she covers the Introduction and Chapter One.  Here's the link:
I wasn't planning to include the photo of myself reading Literacy Beginnings this soon, until I saw Vanessa's today.  I couldn't believe our pictures were so similar!  I guess we are thinking along the same lines.  I agree with everything Vanessa has pointed out so far about including literacy in early childhood classrooms.  (Thank goodness reading this book is not going to make me change my whole approach to teaching, just give me some new tools and support).
On a personal note, the photo was taken this week in Coeur d'Alene, Idaho.  I am here with my husband who successfully completed his first Ironman yesterday!  (That means he swam two miles in a lake with thousands of other fanatics, rode a bike 112 miles up and down hills, and finished the evening off by running 26 miles.)  I would have to say that I am as out of place here as my husband would be at a preschool teacher convention, but I have really enjoyed both the beautiful place and the amazingly supportive atmosphere the entire town provided the athletes.  I hope I can bring some of what I experienced in terms of organization, goal-setting, and reaching further than you think you can back to my classroom in August.  I promise to stay on topic from now on....
Categories: Literacy Beginnings