| | |
| --- | --- |
| Posted by Eilis on August 2, 2012 at 11:25 AM | |
I am working on turning some great "pins" into some actual ABC center activities.  I just love this idea where the kids match upper and lowercase letters on the wheels of cars.  I changed the activity a little by purchasing cute car cutouts, adding alphabet stickers to the wheels, and cutting off one wheel.  The kids will be putting the correct lowercase wheel on the car with the corresponding uppercase wheel.  (Another option would be to cut the cars in half.)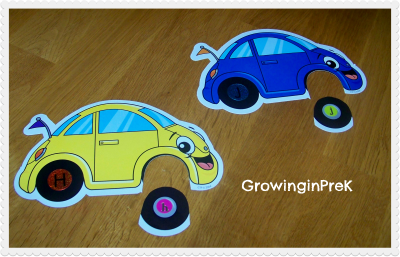 I found the cars at my local teacher supply store, but they have them at Amazon.
I also made an alphabet stamping printable.  I have seen this on many different teacher blogs (including THIS one), but decided to make several printables to use and share them here.  There are both upper and lowercase versions.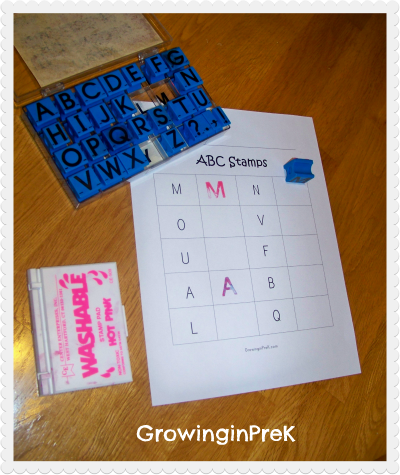 Letter Stamping 1                                         Letter Stamping 2
Letter Stamping 3                                         Letter Stamping 4
Letter Stamping 5                                         Letter Stamping 6
Here are some stamps at Amazon:
And here is my favorite new ABC center: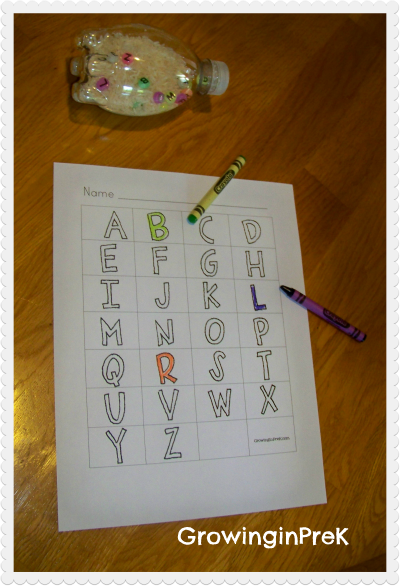 I just put some colorful letter beads (one of each letter of the alphabet) and rice in an empty water bottle.  I will have the kids color in these alphabet letters as they find the beads.  Pretty tricky letter practice....
You can print the Alphabet Sheet HERE.  The printable is two pages (one uppercase and the other lowercase).
As always...if you print anything from here, I would love a comment or a Facebook Like.
Eilis
Categories: ABC Center, Printables