Shopping Cart
Your Cart is Empty
There was an error with PayPal
Click here to try again
Thank you for your business!
You should be receiving an order confirmation from Paypal shortly.
Exit Shopping Cart
| | |
| --- | --- |
| Posted by Eilis on June 9, 2012 at 10:20 AM | |
I attended a very inspiring training at Region 4 in Houston this week.  Maria Gonzales and Diana Morales from Aldine I.S.D. presented "Little Hands Investigating Science."  They teach at a Pre-K only campus that has 600 or more students - imagine!  Their campus has a permanent science room  which they visit to teach science lessons and rotate the students through science centers.  They shared many great hands-on activities that we could bring back to our classrooms.  There were many great make and takes.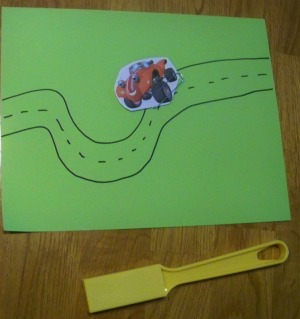 One was this print and cut out car.  We attached a large paper clip to the car and used a magnetic wand behind the cardstock "road" to manipulate the car on the track.  Fun and easy!
They also shared this sentence strip magnetic activity.  Four items are taped to a sentence strip.  Note the inexpensive magnetic wand!  They just attached an adhesive magnetic dot to a tongue depressor. They send these items home with their students to share  what they have learned about magnets. (The magnet is attracted to some of the items, but not others). They emphasized telling students not to touch anything electronic with the magnets.  I would only send these magnets home if I could speak directly to the parents first.  It would make an excellent activity for an open house night.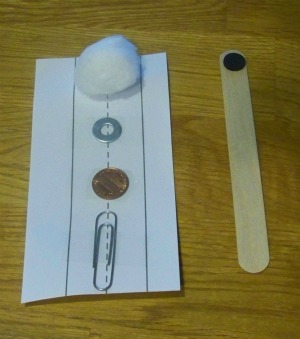 These activities inspired me to creat a an interactive emergent reader about magnets.  You can print it HERE.  I laminate each page and then tape (the top only) of a snack size plastic bag  with the appropriate item in it.  I attach one magnetic wand to the book using a short string.  On each page the kids can test whether the item is attracted to the magnet.  If it is, the bag will lift up as the magnet is held over it. (The bag pictured is a sandwich size bag with the top half cut off).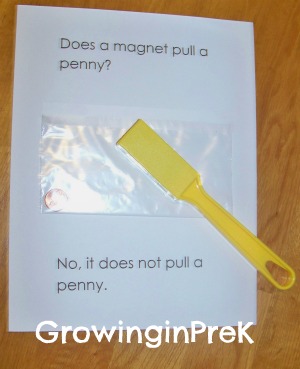 I took this picture before laminating, binding, and attaching the magnet because I find that the lamination doesn't photograph well.  
I would love to hear your comments!!
Categories: Science, Printables, Fine Motor
/