Shopping Cart
Your Cart is Empty
There was an error with PayPal
Click here to try again
Thank you for your business!
You should be receiving an order confirmation from Paypal shortly.
Exit Shopping Cart
| | |
| --- | --- |
| Posted by Eilis on March 3, 2013 at 10:25 PM | |
We celebrated Dr. Seuss' birthday on Friday with some Green Eggs and Ham.  I'm happy to say that we really liked them....
By the way...Kohl's currently has The Cat in the Hat book and plush for five dollars each.  (They also have Horton)
I am also enjoying a new (to me) book about animals that hatch from eggs:
I have been working on a set of Bunny and Egg Printables.  They cover CVC words, color words, sight words, counting syllables, recognizing numbers, number words, tallying, and more.  You can download this set of puzzles FREE at my Teachers Notebook Shop: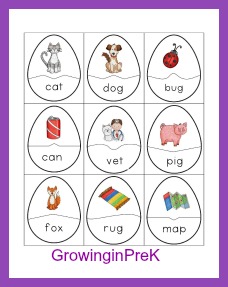 Just click on the picture.
There's much more in the complete file:
How cute is Kate Hadfield's clipart?
I'm printing the black and white number puzzles on pastel cardstock.  What are you doing related to eggs?  I will email this file to the first three comments on this post with great ideas for eggs in the classroom.
Blessings,

| | |
| --- | --- |
| Posted by Eilis on August 26, 2012 at 11:45 PM | |
I firmly believe in "Free Choice Centers" in Pre-K.  I want the kids to have plenty of time to choose their activities.  However, with blocks, dramatic play, art, puppets, the sensory table, and more available, I find that the abc center, listening center, and math center are often overlooked.  Last year, I remedied the math center problem by creating a set of math tubs and sending the entire class to math tubs during "Math Tub Time."  This year, I am adding a 20-30 minute literacy station time.  I have been reading about Daily 5 and pulling some age-appropriate ideas from it. I was very inspired by Lil Country Kindergarten's Daily 5 in Pictures.
I have ten students, so I set up 5 literacy stations (writing, abc work, listening, reading books, and working with the teacher).  I made a schedule so that two kids visit one station each day.  (I put folded name cards out so the kids know which station to go to,)  We are doing Literacy Stations when the students return from outclass, so I have a few minutes to set things out.  By the end of the week, everyone has been to all five stations. This worked REALLY well during the first week of school.  Here are some pictures:
Writing Station:  The students rainbow traced their names.  (I had written them lightly in pencil.)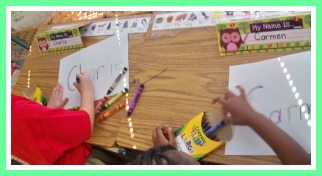 Reading Books Station: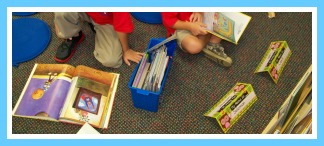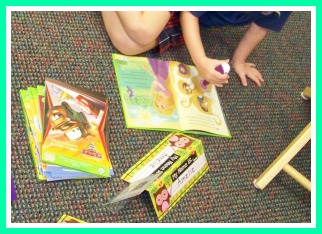 I have two readers and several books.  I have downloaded all my books to both Tag readers, so kids can use either one with any of my books.
ABC Station: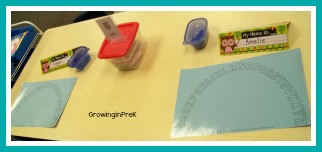 For the first week, the kids placed letters on the alphabet arches and after putting those away, they did alphabet matching puzzles.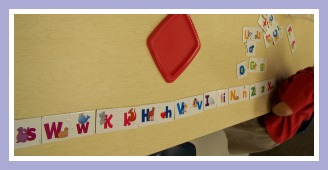 Work with the Teacher Station: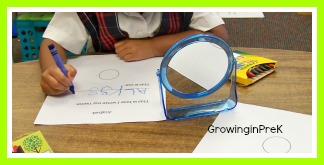 The kids worked on the first page of "My Year in Pre-K" with me at this station.  You can print your own copy HERE. I purchased the mirror at The Dollar Tree.  The kids loved looking in it while they drew themselves.
We also have Listening Station - sorry, no photos.
I hope to add some more pictures over the next few weeks as the activities at the stations change and progress.

/