Shopping Cart
Your Cart is Empty
There was an error with PayPal
Click here to try again
Thank you for your business!
You should be receiving an order confirmation from Paypal shortly.
Exit Shopping Cart
| | |
| --- | --- |
| Posted by Eilis on June 15, 2013 at 10:15 AM | |
I have been away from this blog for a while.  There are lots of changes in my life these days.  My youngest child graduated from high school in May and we are moving to the Dallas area this summer.  Packing up my classroom was a huge and sad job.  I had a wonderful group of students last year and it was very hard to say good bye.  Now I am busy making our house look like no one lives in it (for showings).... No small project when I have all the stuff from my classroom at home!  
Enough of that though.  I have finally finished a set of ocean themed printables which can be found at my TeachersPayTeachers Store.
Be sure to visit and download the preview so you can get the fish themed roll and color dice game for free.
Here's a picture of one of my students measuring the ocean animals with cubes: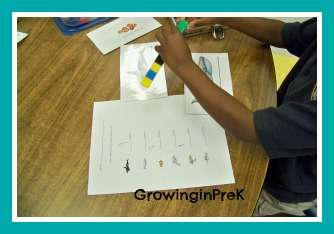 Once again, I used Kate Hadfield's adorable art.
There are also pocket chart sorts, a lower case alphabet bingo game,  number recognition activities, printables to use with float/sink and estimating how many shells are in a jar, and more.... 
I will email the ENTIRE file for free to the first three people who follow my TeachersPayTeachers Store, download the preview of this set, and post a comment about it here.
While sorting out my teaching materials, I mailed a big box of books to  Moore Books for Moore Kids to help teachers trying to rebuild the classroom libraries that they lost in the tornados.   Check that out too if you might be in a position to help.
Have a wonderful summer!

| | |
| --- | --- |
| Posted by Eilis on May 17, 2012 at 8:55 PM | |
| | |
| --- | --- |
| Posted by Eilis on May 8, 2012 at 7:05 PM | |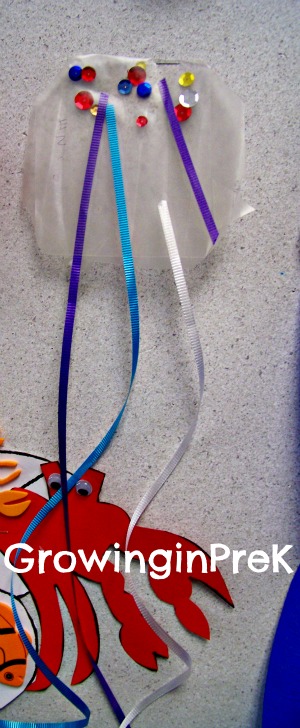 Today we added jellyfish to our ocean wall.  We made our jellyfish by placing four pieces of ribbon along the bottom of a rectangle of contact paper.  Next, we sprinkled a few pieces of glitter on the sticky side of the contact paper.  Finally, we folded the contact paper in half and trimmed off the corners.  Lots of adult help needed....but the results were pretty fun.  I let the kids play around with their "jellyfish" for a while before we stapled them to our growing ocean mural.
Also, we are now ready to work on 100 piece puzzles.  I have usually been able to do this from December on...but this is the first time it has really taken with this class.  Anyway, I have a dollar store ocean themed puzzle set up a tray, and everyone works on it when they finish early or during center time.  It is coming along well!  There is so much to be learned about teamwork, cooperation, sharing, etc. while doing a large puzzle with a group of children.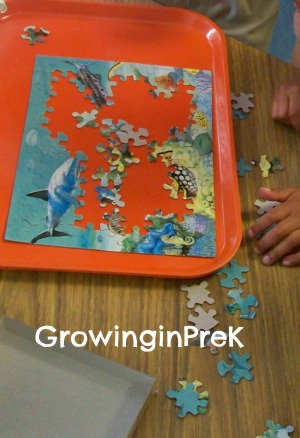 | | |
| --- | --- |
| Posted by Eilis on May 3, 2012 at 7:05 PM | |
It's May!  The end of the school year is quickly approaching.  I love to end the year with all things ocean.  This year I created some printable calendar pieces (ABC Pattern) using adorable clipart from KPM Doodles.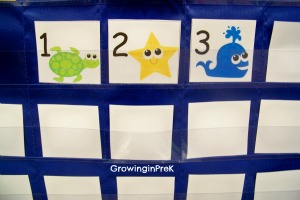 You can print them HERE.
Here's this year's ocean wall (so far).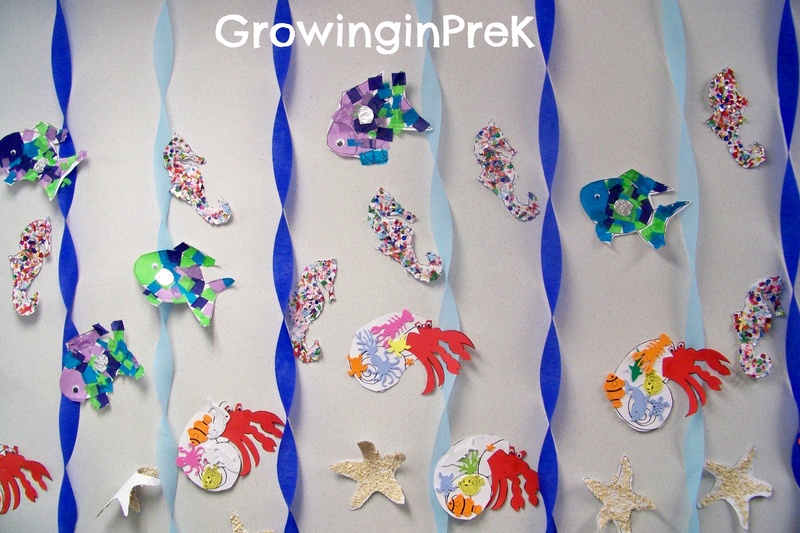 I found the Rainbow Fish pattern at DTLK.  
I found the hermit crab pattern at the Best Kids Book Site.
There are more ocean theme ideas on GrowinginPreK's Ocean Page.
Here are a few Ocean themed books that I love to include in this unit:
/