Shopping Cart
Your Cart is Empty
There was an error with PayPal
Click here to try again
Thank you for your business!
You should be receiving an order confirmation from Paypal shortly.
Exit Shopping Cart
| | |
| --- | --- |
| Posted by Eilis on April 26, 2012 at 6:00 PM | |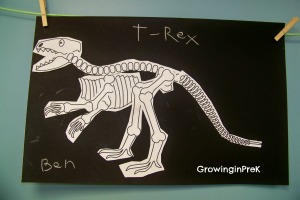 How cool is this T-rex skeleton?  We cut him out from a printable on
Sparklebox
.  It was a little tricky since the kids needed to cut around the pieces, not on the lines.  Putting the pieces together again was also a challenge, but everyone did a great job.  We used black poster boards from a dollar store (cut in half) since the assembled skeletons didn't completely fit on a large sheet of construction paper.  Another solution would be to reduce the copy size of the dinosaur pieces. 
| | |
| --- | --- |
| Posted by Eilis on April 24, 2012 at 10:20 PM | |
I saw this adorable idea for measuring a dinosaur's footprint on Pinterest.  Original Source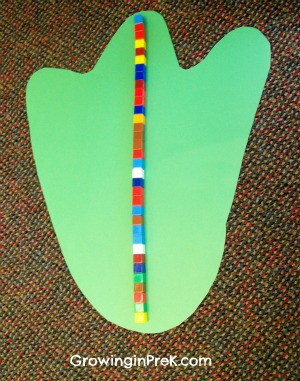 First we estimated how many Unifix cubes long the footprint would be.  Our guesses were pretty wild.  Then we counted to find out.  Next, each child guessed how many Unifix cubes long his/her shoe was and we checked.  This activity kept everyone's attention for the entire time!
We also added some plastic dinosaurs and real rocks to our sensory tub.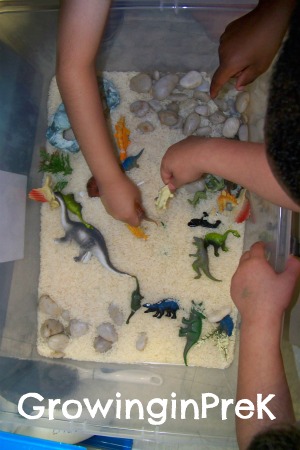 I saw this idea HERE (of course via Pinterest).
I probably should have replaced the rice with pebbles, but the kids didn't mind!  I loved the idea that this kept the dinosaur toys in a contained area. 
We also made some "fossils" with Playdoh.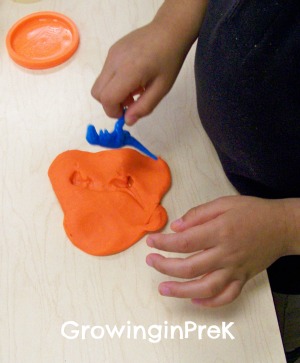 Some fun dinosaur books we enjoyed that incorporated dinosaur facts:
We also used the following books to revisit manners and classroom behavior:
There's still more dinosaur fun ahead in our classroom!
| | |
| --- | --- |
| Posted by Eilis on April 22, 2012 at 6:10 PM | |
I haven't done a "Dinosaur" theme in several years.  I have found and/or created some new materials to freshen up what I had.
I found that I could create my own bingo cards on Sparklebox.  I chose to make the cards with easy sight words that my class is working on right now.  The possiblilities are endless though:  numbers, color words, student names, etc.  Unfortunately the print seemed to be set up for slightly longer paper.  I probably could have reset something, but was in a hurry, so....I chose the purple dinosaur design.  It didn't really matter that a little of his right side was cut off.  His head is intact :).  I also find it is easier to have all the cards printed in the same design so the kids don't care which one they are handed.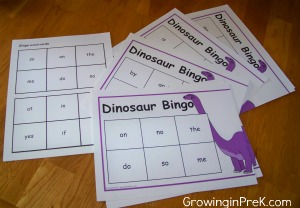 I will be reading If the Dinosaurs Came Back (a favorite since my own kids were four years old!)
and having the kids complete and illustrate pages to a class book innovation.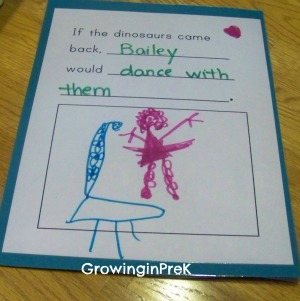 You can print the page I created here.
I have also printed a great emergent reader that I found on Hubbard's Cupboard.
/