Shopping Cart
Your Cart is Empty
There was an error with PayPal
Click here to try again
Thank you for your business!
You should be receiving an order confirmation from Paypal shortly.
Exit Shopping Cart
| | |
| --- | --- |
| Posted by Eilis on March 3, 2013 at 10:25 PM | |
We celebrated Dr. Seuss' birthday on Friday with some Green Eggs and Ham.  I'm happy to say that we really liked them....
By the way...Kohl's currently has The Cat in the Hat book and plush for five dollars each.  (They also have Horton)
I am also enjoying a new (to me) book about animals that hatch from eggs:
I have been working on a set of Bunny and Egg Printables.  They cover CVC words, color words, sight words, counting syllables, recognizing numbers, number words, tallying, and more.  You can download this set of puzzles FREE at my Teachers Notebook Shop: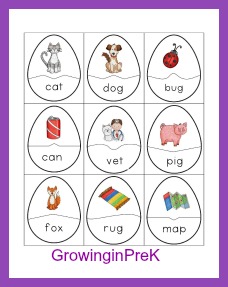 Just click on the picture.
There's much more in the complete file:
How cute is Kate Hadfield's clipart?
I'm printing the black and white number puzzles on pastel cardstock.  What are you doing related to eggs?  I will email this file to the first three comments on this post with great ideas for eggs in the classroom.
Blessings,

| | |
| --- | --- |
| Posted by Eilis on October 15, 2012 at 9:30 PM | |
I got some great ideas for my Monsters Printable file from Debi, Robin, and Amanda who commented on my last post.  They were looking for opposites, beginning sounds, and counting (on the bed/in the closet).  I have sent the file to them for their thoughts.
There are also some "eyeless" monster mats for counting and/or adding with your own google eyes.  
The 89 page file is two dollars at My Teachers Notebook Shop.
(Do you love the plastic container?!  I bought that about a month ago at the Target Dollar Spot.)
Here's a little FREEBIE emergent reader for your kids to color.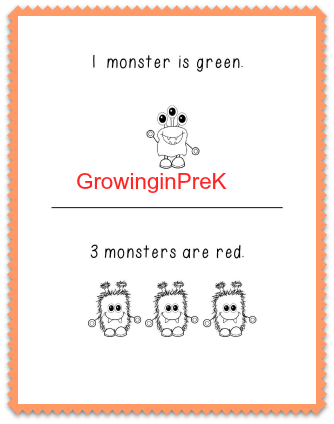 I just love the monster clipart that I purchased at Creative Clips and the free font from Hello Literacy.
Well, I am off to our class field trip to a farm/pumpkin patch tomorrow.  Wish us luck!
Blessings,

| | |
| --- | --- |
| Posted by Eilis on October 10, 2012 at 8:15 PM | |
Here's a FREE printable game to help young learners put the numbers one to twenty in the correct order.  Players take turns choosing a numbered candy corn piece and the first to fill his/her board wins.  There are two different versions of the board depending on whether your students will need to have numbers to match or not.
Just click on the pictures to take you to my Teachers Notebook Shop where you can download it for free.
I am currently working a big "monster" printable file.  The monsters are pretty silly looking - not scary. So far I have color word matching and a rhyming word emergent reader.  What would you like to see included in this set?  I will send the file free to anyone who gives me a suggestion that I end up using.
Blessings,

| | |
| --- | --- |
| Posted by Eilis on September 1, 2012 at 6:30 PM | |
I have added a free printable game to my Teachers Notebook Shop.  You'll just need to add markers (two colors of plastic frogs would be fun)
and a die.  I use a foam cube with the numbers 1 and 2 written on it to keep play simple and extend the time it takes to reach ten.  If you print this, please make my day and leave a comment ! ! !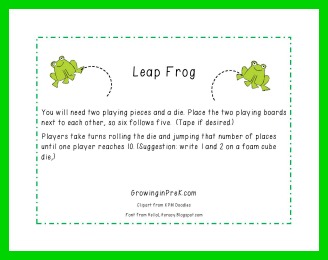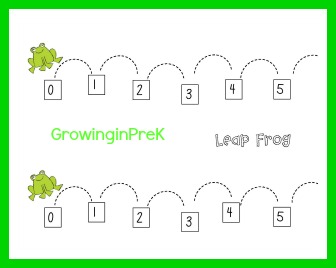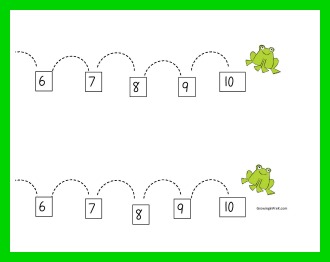 Just click on any of the photos to go to my Teachers Notebook Shop.
(While you're there...please make it one of your favorites...)
Here is the game in use in my classroom.  My students LOVE it.

Blessings,

| | |
| --- | --- |
| Posted by Eilis on August 7, 2012 at 7:05 PM | |
I have seen a couple of great math chart ideas on Pinterest.   Guess what - Lowe's is selling them for $4.95 !
Well...they don't know that they are math charts....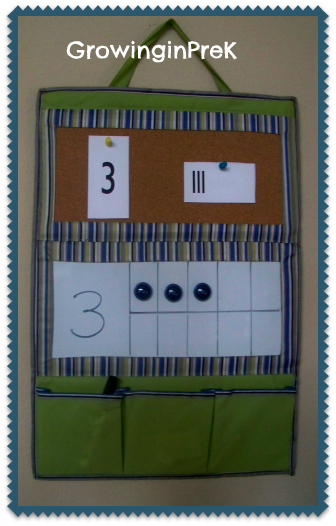 Actually, they are in the section with items for setting up a dorm room.  There are solid black ones, black and white ones, and one with some pastel colors in it.  They have a small cork rectangle and a dry erase/magnet board AND three pockets.  I added the magnets and dry erase marker.  They could be stored in the pockets.
AND... look what else you could do with the three pockets...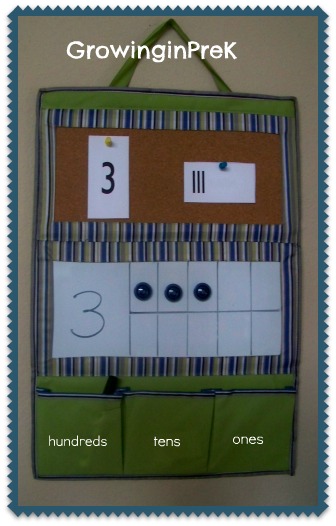 Add Popsicle sticks and you have a way to show place value (for kindergarten).  
Those are my ideas.... I bet you have some more...please share them!
Eilis
| | |
| --- | --- |
| Posted by Eilis on April 24, 2012 at 10:20 PM | |
I saw this adorable idea for measuring a dinosaur's footprint on Pinterest.  Original Source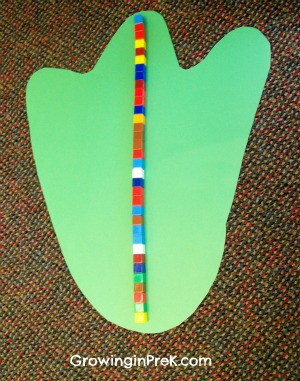 First we estimated how many Unifix cubes long the footprint would be.  Our guesses were pretty wild.  Then we counted to find out.  Next, each child guessed how many Unifix cubes long his/her shoe was and we checked.  This activity kept everyone's attention for the entire time!
We also added some plastic dinosaurs and real rocks to our sensory tub.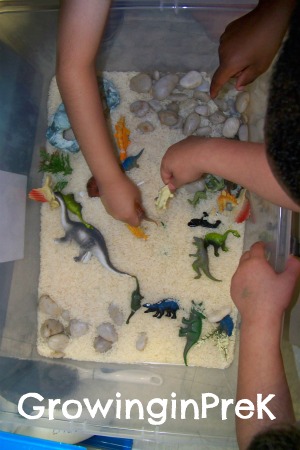 I saw this idea HERE (of course via Pinterest).
I probably should have replaced the rice with pebbles, but the kids didn't mind!  I loved the idea that this kept the dinosaur toys in a contained area. 
We also made some "fossils" with Playdoh.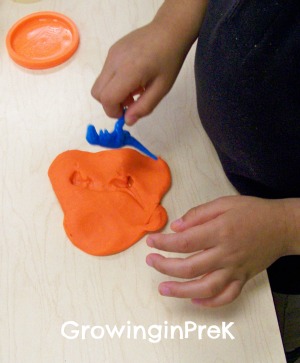 Some fun dinosaur books we enjoyed that incorporated dinosaur facts:
We also used the following books to revisit manners and classroom behavior:
There's still more dinosaur fun ahead in our classroom!
| | |
| --- | --- |
| Posted by Eilis on April 20, 2012 at 9:55 PM | |
My class is enjoying a counting activity that we have been doing when we line up this week.  The children take turns (from first in line to last) holding up ten fingers counting their part of the tens to 100.  (Jack says ten, Mary says twenty, Ann says thirty....)  We have performed our show for other classes waiting in the hall, much to the delight of my class.  We have also raised the bar by having Mrs. Meyer jump into the line so that everyone has to adjust their numbers and we end on 110.  I am hoping to try this with fives soon.  Each child would say five, ten, or fifteen, twenty, etc.
What has been working in your classroom?
/