Shopping Cart
Your Cart is Empty
There was an error with PayPal
Click here to try again
Thank you for your business!
You should be receiving an order confirmation from Paypal shortly.
Exit Shopping Cart
| | |
| --- | --- |
| Posted by Eilis on January 22, 2013 at 4:55 PM | |
Wow - it's almost February!  I am going to organize the Pre-K Valentine Exchange again this year.  I have made some changes which I hope will simplify things (for me anyway...).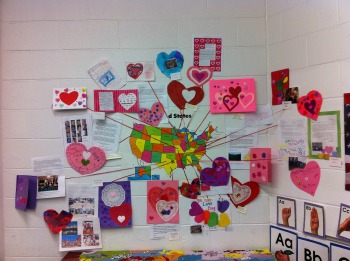 If you wish for your class to participate, please email the following information to me at [email protected] by Tuesday, January 29th.  PLEASE email your school name, your name, and school address to me EXACTLY as it would appear on an envelope addressed to you.  (If you prefer to use your home address, please do likewise.)  
Example:
          Sweetheart School
          Attn:  Mrs. Heart's Pre-K Class
          123 Lover's Lane
          Lace, TX 77777

 I want to be able to copy and paste your information directly from your email to my list.  Also, please send the email from the email address that you want to be contacted at, so I can simply "reply" to your email.  Please send one email per teacher/class participating.
I am going to put everyone on one giant list with the directions that your class should send one homemade paper Valentine to the twelve classes that follow you on the address list.  (If you fall towards the end of the list, you would include addresses at the top of the list until you reach twelve.)  I will try to spread different states around the list, but frankly my biggest response to the Gingerbread Exchange came from a few states like Texas, Florida, and Georgia so everyone ended up receiving lots of mail from those states.  I don't want to turn down people just because I already have participants from a certain state....so we'll just have to work with what we have.  (Pre-K teachers tend to be experts at that!)
I will email the list to everyone by February 4th.  Please send out your Valentines by February 6th.  This should have the Valentines arriving by February 14th.  They should be "kid creations" and not include food or candy.  You can choose whether to include a photo of your class, whether to have your students sign it, and all those details.
And...Sorry that GrowinginPreK has been so quiet lately, but I have had complicated laptop issues that have prevented me from doing the things I want to.  I can't wait to get access to all my photos, clipart, etc. back.  Luckily it is stored in a "cloud" somewhere...but still not really available to me until I get my own computer back.

Blessings,
Eilis
| | |
| --- | --- |
| Posted by Eilis on February 16, 2012 at 11:10 PM | |
/