Shopping Cart
Your Cart is Empty
There was an error with PayPal
Click here to try again
Thank you for your business!
You should be receiving an order confirmation from Paypal shortly.
Exit Shopping Cart
| | |
| --- | --- |
| Posted by Eilis on August 27, 2012 at 8:25 PM | |
It's the second week of the school year and I am anxious to begin some "directional art,"  but the scissors skills just aren't there yet.  Today, after reading Corduroy, one of my very favorite children's books, it came to me.  
I knew we could glue some brown and green circles and rectangles and come up with our own adorable bears.  (When I went to Amazon for a picture of the Corduroy book, I couldn't believe the great price of this hardcover book and plush animal boxed set.  I don't want to type it here since prices can change, but click on the picture if you are interested.)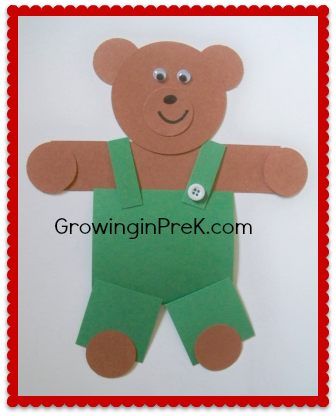 I used my one inch circle punch to cut the 7 circles for the paws, ears,  and face.
I used my 2 1/2 inch circle punch to cut the head. 
The arms are a brown rectangle about 1 x 5 inches.
One green rectangle is about 3 inches x 2 3/4 inches.  Two are 1 1/2 inch squares.  The shoulder straps are 1 1/2 inches long.  (I just cut them free hand.)  Each bear needs one button and two small google eyes.  I finished the face with a a black marker.  (The bear in the photo has not been glued yet.)
Here are a couple of pictures I took while putting the pieces together: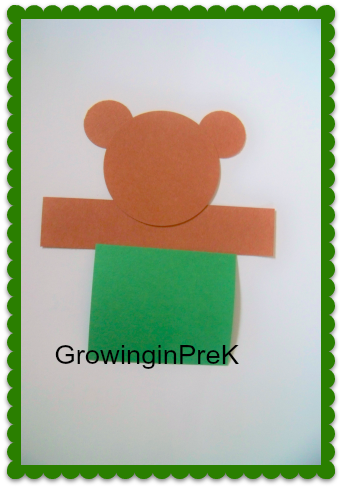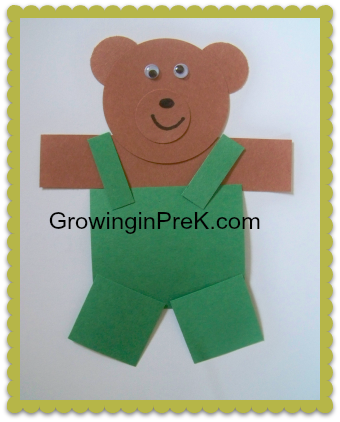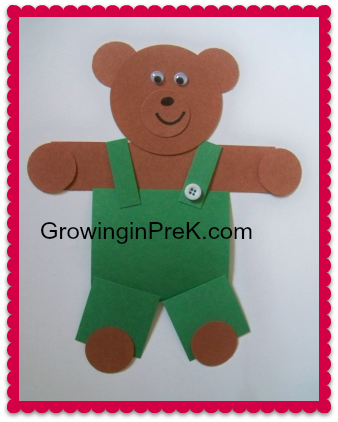 Homeschool Creations has some free printables to go along with Corduroy HERE.
I'd love to hear your "Bear Theme" ideas.

| | |
| --- | --- |
| Posted by Eilis on May 6, 2012 at 8:40 PM | |
Here's this year's version of the labeled flower.  Last year we used a yellow paper plate for the flower.  The kids cut all around the plate to create the petals. This year (inspired by Pinterest) we made a loop from a strip of construction paper.  The 3-D effect really popped on the bulletin board.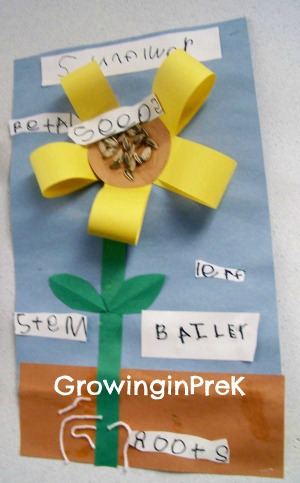 | | |
| --- | --- |
| Posted by Eilis on February 16, 2012 at 11:10 PM | |
| | |
| --- | --- |
| Posted by Eilis on November 19, 2011 at 9:15 AM | |
The Indian Corn is really growing!  I have taken it home over the Thanksgiving break because the water gets cloudy.  I have been changing the water every couple of days.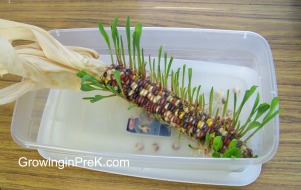 I picked up this "blender" at Target for our "making butter" project.  It has a little metal sphere inside.  The cream turned into butter VERY quickly.  Each student took one quick turn to shake it while everyone else worked on their pasta necklaces.  Then we enjoyed our fresh butter on bread.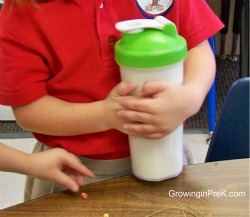 Lots of fine motor work and patterning practice with colored pasta necklaces:

Here are some pictures from the Thanksgiving book we made.  I found this idea at http://thoughtsofesme.blogspot.com/2010/11/tale-of-thanskgiving.html
It was a big project spread out over many days...but I LOVED the results.  The kids were eager to find out which page we were doing each day and became very familiar with Pilgrims, Native Americans, the Mayflower, etc.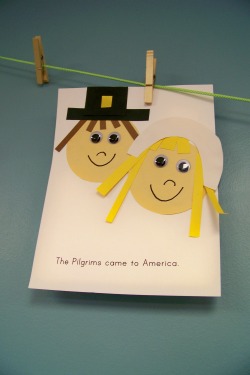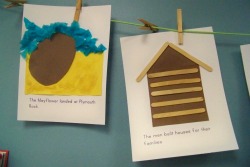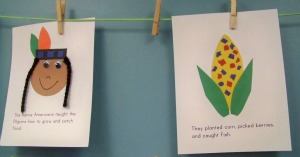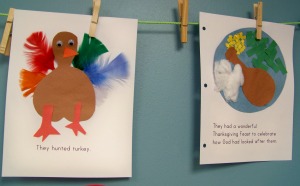 I bound the finished books with three one-inch binder rings.
And last but not least... here is my favorite Thanksgiving read aloud:          
Happy Thanksgiving!
| | |
| --- | --- |
| Posted by Eilis on October 9, 2011 at 2:50 PM | |
I love to do TLC Art with my class.  This week we made the scarecrow from the fall/winter Pre-K book.
http://www.growinginprek.com/fall.htm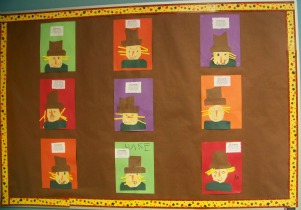 TLC has the students use one finger to apply dabs of glue, instead of working with the squeeze bottles.  They suggest using margarine lids for the glue.  I have also seen teachers use little plastic cups for the glue.  This week I discovered that the disposable Glad lids are perfect for this: 
The circle indentation makes a perfect well for a little glue!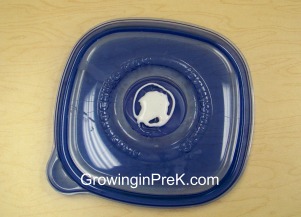 If you found this helpful....please like GrowinginPreK on Facebook.  
| | |
| --- | --- |
| Posted by Eilis on October 1, 2011 at 5:10 PM | |
My latest favorite project!  We read several of the Mo Willems Pigeon books and thought of our own vehicles.  I traced the basic shapes (head, neck, and body) on blue and (eye) white construction paper.  The kids cut them out, glued them down and added wings and legs and eye ball.  Here's the printable: http://www.growinginprek.com//Don't%20let%20the%20pigeon.pdf.  I drew a speech bubble before making copies.
| | |
| --- | --- |
| Posted by Eilis on September 8, 2011 at 7:05 PM | |
I combined some ideas that I found on two very creative kindergarten sites: http://fairydustteaching.blogspot.com/2011/04/in-tall-tall-grass.html and
http://thesunshineshack.blogspot.com/2011/05/in-tall-tall-grass.html to come up with a Pre-K version of this project.  I LOVE the grass cutting part.  I have lots of kids who are using scissors for the very first time.  This gives them great practice and really works on those fine motor skills.  I also LOVE the book, In the Tall, Tall Grass.  Lucky me, I have big book version of it.  It is so engaging for young learners.  It includes pictures they love, big clear print, AND rhyming and alliteration.  It's just an all around great choice for an for early childhood read aloud.  So here's what I came up with: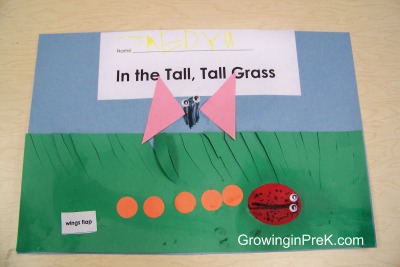 After cutting the "tall grass,"  each child created insects from construction paper shapes, google eyes, and markers.  Each child also chose a phrase from the book to glue onto the grass.
Here's the printable:  http://www.growinginprek.com//In%20the%20tall%20tall%20grass.pdf
/