Shopping Cart
Your Cart is Empty
There was an error with PayPal
Click here to try again
Thank you for your business!
You should be receiving an order confirmation from Paypal shortly.
Exit Shopping Cart
| | |
| --- | --- |
| Posted by Eilis on March 22, 2013 at 12:25 AM | |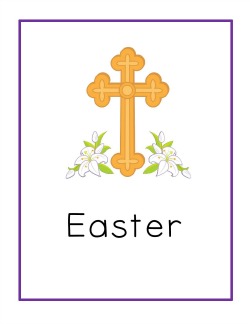 I just discovered some great religious Easter clipart and immediately made up a printable file.  This file is FREE.  I hope you find many uses for it in the days leading up to Easter.  There are Word Wall Words, small color posters, coloring sheets, and an Easter Word Search.
You can find it either at my Teachers Notebook Shop or at my Teachers Pay Teachers Store.  If you download it, I would appreciate a "follow" and/or some positive feedback.  I also love comments here on the blog.  
Here are a couple of Easter books that I love:
And PreKinders has a great free printable Life of Jesus Cross HERE.
Blessings,

| | |
| --- | --- |
| Posted by Eilis on December 7, 2012 at 11:25 PM | |
I love sharing the Christmas story with my young learners this time each year.  This week they illustrated their gifts for Baby Jesus:
and created these simple Nativities.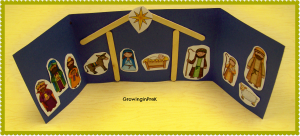 The printables for both activities are included in The First Christmas Printables at my Teachers Notebook Shop.
We also enjoyed some more visits from our elf, Mario.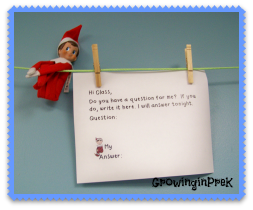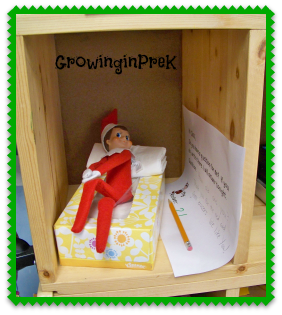 And.... The Gingerbread Exchange Has been wonderful.  I have been very touched by the notes and emails I have received from so many delightful teachers.  Many classes from one school in Ennis, TX signed up.  It was tricky to put them all on separate lists (especially since Texas is already heavily represented in the exchange).  This picture of all the gingerbread men that they received (combined from all the lists) is AMAZING!  I hope they won't mind me posting it here.  Can you find one you sent out?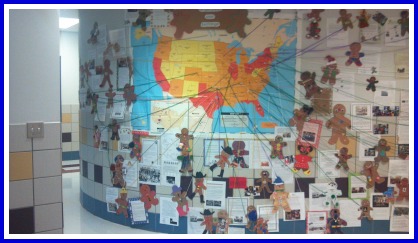 Blessings,

| | |
| --- | --- |
| Posted by Eilis on December 14, 2011 at 7:40 AM | |
Several of these ideas came from my wonderful teaching partner, Catherine.  She credits Barbara for the "My Gift for Jesus" idea.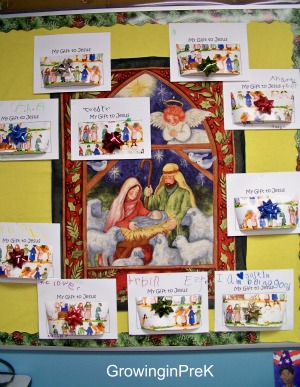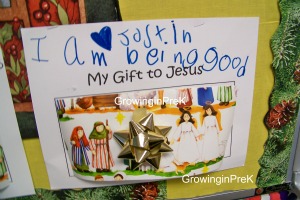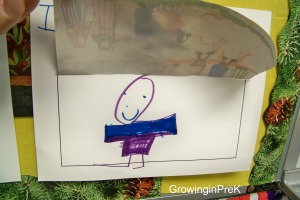 The Legend of the Candy Cane  ties some Christian symbols to the candy cane.
You can print this mini-book at http://www.christianpreschoolprintables.com/Pages/Christmas/MinibookCandyCane.html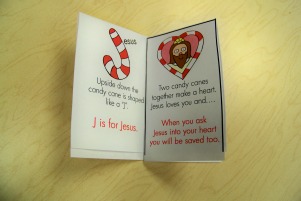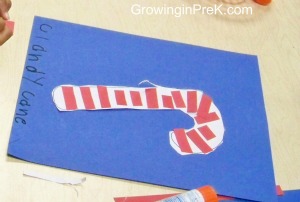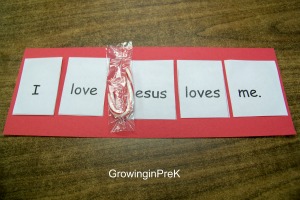 The kids sequenced the words.  I added the real candy canes just before they took them home.  This could also be done with candy cane stickers.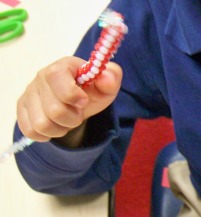 We also did some beaded candy cane ornaments from a kit.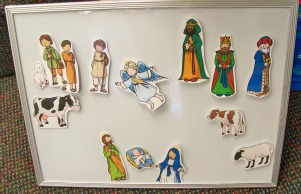 I printed, laminated, and added magnets to these adorable Nativity pieces from Activity Village.
You can print your own here: http://www.activityvillage.co.uk/nativity_printables.htm
Merry Christmas!
Eilis
| | |
| --- | --- |
| Posted by Eilis on November 12, 2011 at 8:55 AM | |
Did you know that there are easy readers of Bible stories?  I just discovered them at my local Christian bookstore.  My kids are really enjoying this one while we are studying the story of Baby Moses:
They tie in to the stories and pictures in the Beginner's Bible:
but there are more pictures and the writing is structured for beginning readers.  I find they are great for read alouds.  There were only a couple at the Christian bookstore that I went to.  I checked Amazon and found many more:
| | |
| --- | --- |
| Posted by Eilis on September 6, 2011 at 6:35 PM | |
We painted small paper plates with blue paint, added green tissue paper, glued the plates to light blue construction paper and finished the project off with cotton balls and the Bible verse.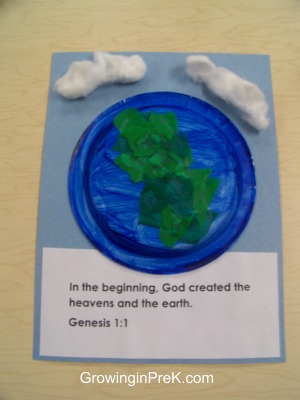 /