Shopping Cart
Your Cart is Empty
There was an error with PayPal
Click here to try again
Thank you for your business!
You should be receiving an order confirmation from Paypal shortly.
Exit Shopping Cart
| | |
| --- | --- |
| Posted by Eilis on December 2, 2012 at 4:05 PM | |
I purchased one of those cute little Elf on Shelf sets to use in my classroom this year.
 THEN... I discovered just how many adorable ideas and printables there are for classroom elf activities on teacher blogs via Pinterest.  Here's one great  Link Up:  
Here's my take on it using Kate Hadfield's adorable art and keeping the concepts very simple for four and five-year-olds.  I stayed away from writing letters to Santa and put emphasis on the elf looking for good classroom behavior.
 My little printable set is one dollar at my Teachers Notebook shop (I need to fund my clipart and license expenses...), but I will email it FREE to the three best comments on this post 
FEATURING GREAT IDEAS FOR ELF VISITS in an EARLY CHILDHOOD CLASSROOM.  I will choose the best three tomorrow (Monday, December 3, 2012) night.
So...get your creative minds working (quickly) or you can always purchase it for one dollar :).
Update:  Sorry - the free offer is over...but please follow this link for updates on our
ELF ADVENTURES.  There are two FREE elf printables there.


| | |
| --- | --- |
| Posted by Eilis on October 19, 2012 at 7:50 AM | |
One of my favorite Early Childhood Blogs is Mrs. Goff's Pre-K Tales.
Mrs. Goff participated in a fun Pay It Forward activity where she received a package from a blogging teacher and then Mrs. Goff "paid it forward" by sending a package to three more blogging teachers.  The packages contain books and materials relevant to the place where the sender lives.  
Lucky for me....Mrs. Goff lives in Pennsylvania.  So, she sent me an autographed book by Judy Schachner:
  because Ms. Schachner lives nearby.
She also sent me lots of yummy Hershey Kisses (you guessed it ...from Hershey, Pennsylvania)  
and several more books, maps, and activities related to the Amish, the Constitution, and Pennsylvania.  
Thank you very much Mrs. Goff!  My class will enjoy the books and the kisses!
Now it's my turn to Pay It Forward.
So if you would like to play AND are willing to pay it forward from your own blog, then here is what you do.
Leave a comment on this post stating that you want to play, and I will randomly choose three players.
You can be from anywhere in the world!!
The rules are:
• To the three participants I will send a fun package representing Texas - but you must be willing to Pay it Forward to three more people.  
• Comments will remain open until November 5th.
• If you are chosen you will need to send me your address so that I know where to send your package.
• After you receive the package you will need to Pay it Forward in the same manner on your blog.
Thanks for playing!

Update:  Please include the name of your teacher blog in your comment
| | |
| --- | --- |
| Posted by Eilis on October 1, 2012 at 7:40 PM | |
I used to blog about things that happened in my classroom, ideas that worked...or didn't...  It has been a while since I have written that kind of post...but today was that kind of day...so here goes.
I tried a dice game as a "math station" today.  I found the free printable HERE and my students really enjoyed playing it.  The funny thing that happened was that one student kept telling me that her "dice had no four."  She was supposed to be working independently while I worked with a small group.  I told her a couple of times that of course it had a four (four dots).  Joke on me...when I finally checked it...no it did not.  She is a pretty bright kid...and I am impressed that when she wasn't getting any fours, she actually checked.
This morning was that wonderful first cool morning in Texas (this year).  The kids were so funny coming in wearing sweaters and sweatshirts and telling me how cold it was outside.  The low for today was 64 degrees, but bless their four year old memories...this was the coldest morning that they could remember.  So, at playground time, when the temperature was well up into the seventies....they were all anxious to put all their new cold weather gear on.  I assured them that it had warmed up by now and they would be fine without the sweaters and sweatshirts....but one little guy told me he "was going to get all sweaty if he didn't wear his sweatshirt."  (As  Willie Wonka would say..."Reverse that...")
I could go on and on...but I'd love to hear the funny things that happened in your classroom.  Please share.  I will send my pumpkin life cycle printables to the first three great shares.
Blessings,

| | |
| --- | --- |
| Posted by Eilis on May 17, 2012 at 8:55 PM | |
| | |
| --- | --- |
| Posted by Eilis on October 13, 2011 at 6:55 PM | |
| | |
| --- | --- |
| Posted by Eilis on August 11, 2011 at 11:10 PM | |
A teacher blog with a linky party to teachers that blog and "pin" on Pinterest.com...how much better can it get?!  Check it out here: http://michellesmathinthemiddle.blogspot.com/2011/07/pinterest-linky-party.html
| | |
| --- | --- |
| Posted by Eilis on July 8, 2011 at 2:24 PM | |
Finger Puppet + glue + dowel =  very cute pointer.  I found this idea at 
http://excusememrsc.blogspot.com/2010/06/word-walls.html.
I purchased this package of finger puppets at IKEA for about $5.  I think I will leave the shark and turtle as finger puppets for the ocean unit.  I need to pick up a couple more dowels for the other animals, but wanted to show you how many were included in the bag.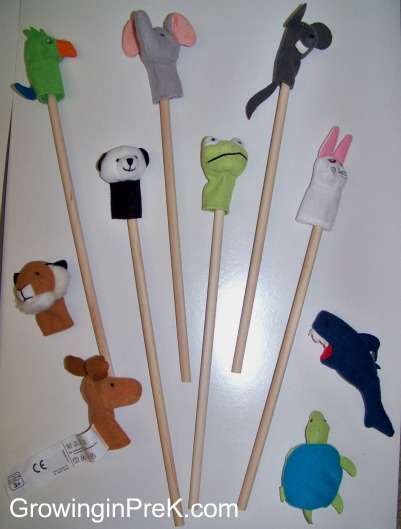 /