Shopping Cart
Your Cart is Empty
There was an error with PayPal
Click here to try again
Thank you for your business!
You should be receiving an order confirmation from Paypal shortly.
Exit Shopping Cart
| | |
| --- | --- |
| Posted by Eilis on July 2, 2013 at 10:25 AM | |
I recently received three sample rolls of Smart-Fab to use and review for this blog.  I did not receive any compensation for this review beyond the free sample.  I have to say that I am very excited about this new product!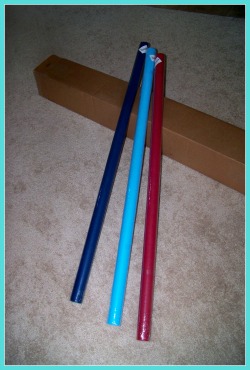 This material is like felt and paper rolled up in one.  It is easy to cut, does not fray, and can be painted on, glued, sewn, etc. It is much thinner than felt, but still has the feeling of fabric.   There are loads of ideas of how it has been used on Pinterest. I am looking forward to using it on bulletin boards since Smart-Fab reports that holes do not remain when tacks are removed.  Sounds like a teacher's dream to me!  However, I will not be breaking into any locked school buildings to try it out this summer....
So my first very quick project was to make some pom-poms: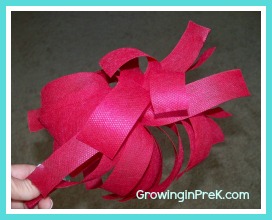 I simply cut a strip of Smart-Fab the width (48 inches) of the roll and then cut fringe.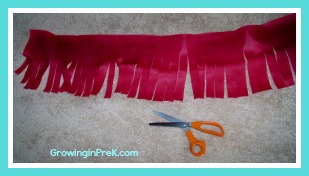 Then, I rolled it up and added a rubber band to make the "handle."  For the second one, I decided to try two colors.  I placed the two colors one on top of the other and only had to cut once.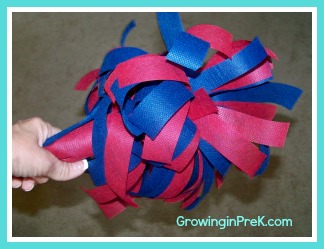 I plan to make a bunch of these for dress up, gross motor activities, etc.  I am going to try having the kids use them when they count syllables (instead of clapping) for a little variety.  We may even take them out with us at playground time so kids can be "cheerleaders."
There are lots more Smart-Fab ideas bouncing around in my head....
I will post them here as they become reality.
I have linked this up at Mop it Up Monday.

Blessings,

*** UPDATE - Check back here in the next few days - GrowinginPreK.com will be hosting a giveaway of Smart-Fab for one lucky reader***

| | |
| --- | --- |
| Posted by Eilis on January 30, 2013 at 8:10 PM | |
 Does your class enjoy Pinkalicious as much as mine does?  I am putting together a presentation for the Houston Area Association for the Education of Young Children next week.  The topic is activities to follow up the read aloud.  These are some of the activities I use with  Pinkalicious:
I purchased a couple of sets of these adorable cupcakes at the Target Dollar Spot recently.  A package of six cost $3.00.  The muffin tins are from the Dollar Tree.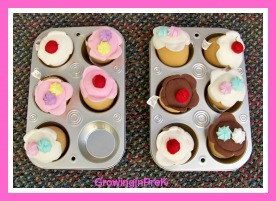 I use them introduce addition.  We add the number of cupcakes in one pan to the number in the other pan.  The pink cupcakes are also a prop with my "Pinkalicious" puppet.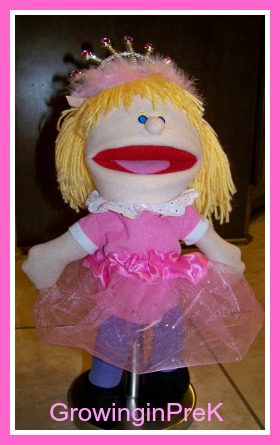 I made her out of a puppet from Oriental Trading.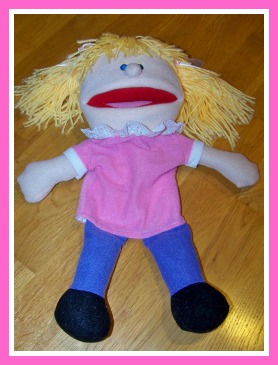 and added a skirt and tiara from Dollar Tree.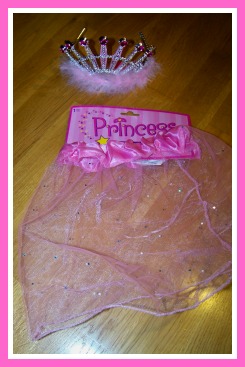 The skirt was too long, so I doubled it before hand stitching it to the puppet.  I used a couple of stiches to attach the tiara to the puppet's head as well.  I may add wings some day...
And here are some props that go along with the puppet: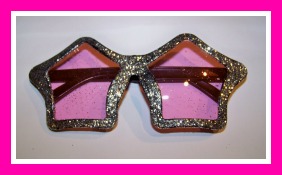 Dollar Tree pink tinted star glasses for the kids to wear!  (They can literally see the world through rose tinted glasses....)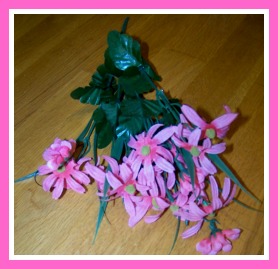 Dollar Tree pink flowers for Pinkalicious to blend into....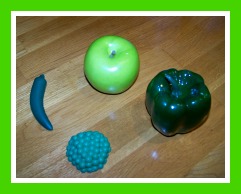 and plastic green foods.  (The apple and bell pepper came from Dollar Tree.  The peas and pepper were in our play food.)
I use the props along with the read aloud, and then put them in the puppet center for the kids to use.  There is also a "Peter" puppet in the set of puppets from Oriental Trading.  We use him "as is."
Do you have a great activity that you do with Pinkalicious?  If so, please comment.
And....I am very grateful to have my laptop up and running again!  I hope to get the Valentine Exchange list out this weekend.  The response was wonderful as usual.  Sorry, the exchange is now closed.  
Blessings,

| | |
| --- | --- |
| Posted by Eilis on November 24, 2012 at 8:00 PM | |
I have been using the same themes for years now.  Thanks to the great ideas I find on other teacher's blogs, I have new and improved activities each year.  However, this year I am stepping out of my comfort zone and adding a new theme!  I went to a wonderful Preschool Summer Institute at Region 4 in Houston last summer.  We all went home with lots of great teaching ideas AND materials.  We were each given a Lakeshore astronaut costume and several space related items from Lakeshore.   So...when, while planning the year's themes with my team , we noticed that we have an "extra" week between Thanksgiving and December this year....  I decided that we had to do a space theme so I could use my cool new stuff.  ( I also have access to a second uniform since a friend who attended with me was willing to share hers as long as I share mine another week.)
But .. as the week approached, I got concerned.  I knew I could make a rocket out of a wardrobe box for dramatic play....but frankly I wanted something quick, inexpensive, and educational.  Then....I saw it....on PInterest of course.  Check out this amazing International Space Station at The Very Busy Kindergarten.  I barely got through cooking Thanksgiving dinner.  All I could think about was how to turn my classroom into a space station.  I had been worried about what the other kids would do while two dressed up as astronauts and had all the fun.  Then I saw those experiment boxes made from cardboard boxes, dishwashing gloves, and clear wrap.  I already have an "Is it magnetic ?" center that I haven't put out yet this year.  I also have some space looking linking pieces from Oriental Trading that usually collect dust at the back of the cabinet.  I was planning to use free cardboard boxes.....but then I saw these gray boxes intended to store photos.  They were sturdy and the just had "the look" I wanted.  So...my experiment boxes were not free ($7 each at Garden Ridge) plus about a dollar for the dishwashing gloves...but the good news is that I WILL use them to store my space stuff until next year....
I also splurged on a Solar System map for our Tag Readers 
I added head phones to each one and then two kids could easily use the mat at once: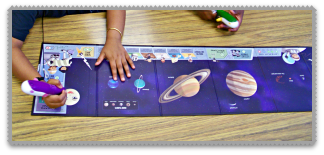 Here's the link to my space board on Pinterest if you are interested.  I found some free printables photos of planets at Montessori Mom and phases of the moon also at Montessori Mom.  I used my home laminator to turn those free printables into sturdy materials for my students to handle.
    and of course the 10 cent laminating sheets from Amazon....
Now (drum roll please) on to the space station (or shuttle depending on imaginations)  that I made from a science board.  I turned my Little Tykes kitchen around so that just the white side was showing.  I decorated the poster board with Solar System posters from the local Teacher Supply store and added sheets of paper that had been run through our printer each time it tried to align because we had inserted a new ink cartridge. (No...it didn't really need to align all those times...but it thought it did and now I am glad I didn't throw away all the paper it wasted...).  Guess how I made the "switches?"  I cut strips of black adhesive foam sheets and folded them in half, letting about half of that stick together and using the other two quarters of adhesive to stick on my science board.  Not bad for a total of 99 cents...  I got really lucky on the chairs.  I had purchased them at Marshall's last year for independent reading places.  I had not brought them to my small classroom yet this year, so these students have not seen them and they are for all intents and purposes.....astronaut seats.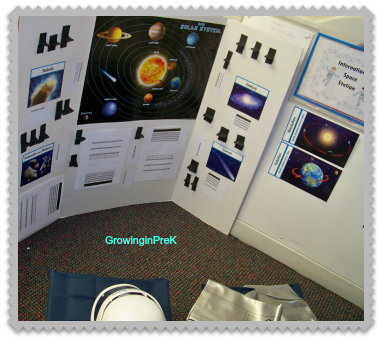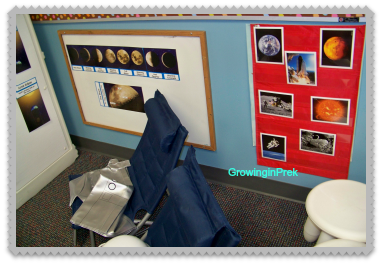 The silver on the seat is one of the Lakeshore astronaut uniforms.  Here's a student wearing one: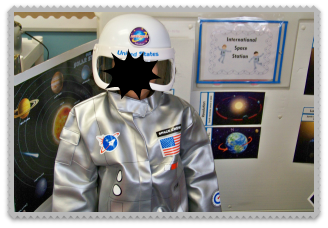 Here are some pictures of my progress on the experiment boxes: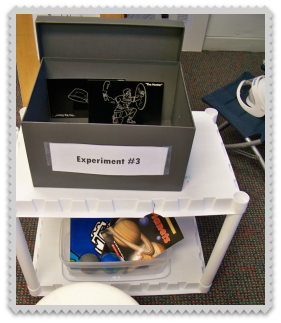 This one is constellation cards with holes in them.  The student shines a flashlight in the box to see the constellation through the holes.  (One of the Lakeshore items that I was given last summer...)  I had to add a piece of black cloth for the student to work under to make it easier for kids to see the constellations in a small area.
The lower shelf shows some space themed easy readers for the kids to enjoy.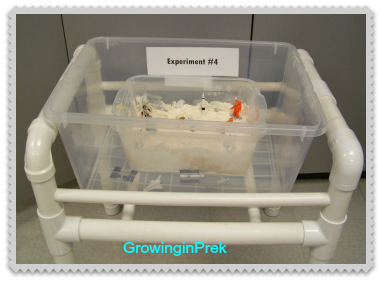 I put some flour and baby oil in a plastic container as moon sand or fairy sand.  It does have an interesting soft texture and smells great.  I added this assortment of tiny astronauts: 
I am limiting this experiment to one student at a time since he/she will need to wash hands after playing.
Lucky again... my normal sensory tub and the gray closets behind have that "Space Station" look...
Here's a picture of me assembling the experiment which involves building with the Oriental Trading pieces: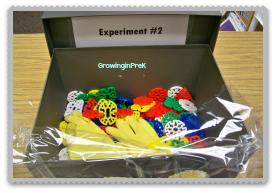 Here it is in use with the cellophane taped over it: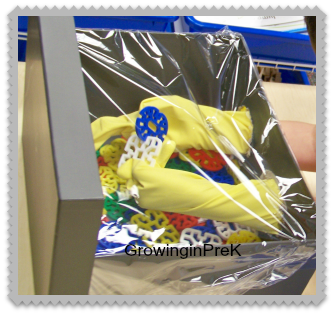 After cutting two holes for the dishwashing gloves, I hot glued the gloves to the outside of the holes.
We also made constellations: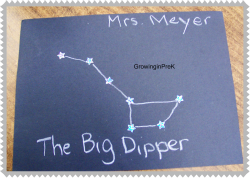 I demonstrated the Big Dipper, but let the kids be creative on their own constellations.
Everyone cooperated on a floor puzzle:
Since I found a bag of golf practice balls at the Target Dollar Spot, each child will take home his/her own pipe cleaner model of revolve/rotate.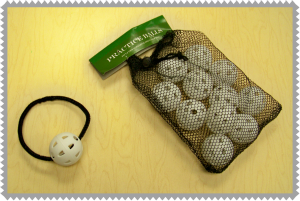 I found this idea HERE.
Here's a link to my Space Printables ( $1.50) at My Teachers Notebook Shop.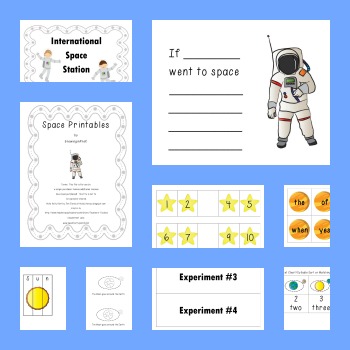 The printables include the following: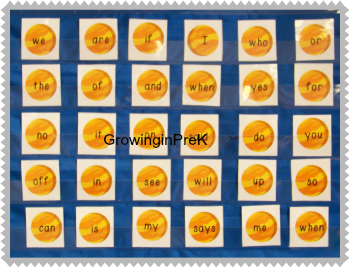 Sight words on planets for a pocket chart game.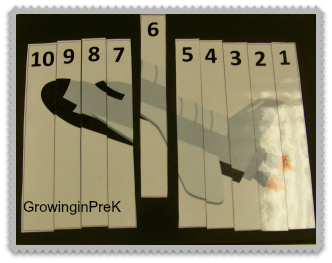 Puzzles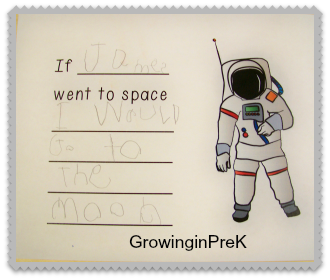 Class Book.
There is also an emergent reader about space: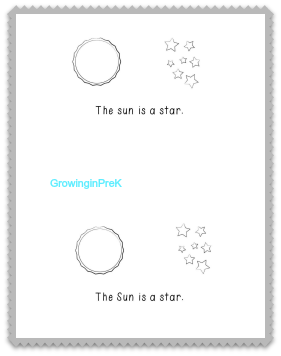 and this Race to Trace Dice Game.  I found some ten sided dice at the Teacher Supply store.  If you don't have these, students will need the option of rolling one or two dice each time so they can get a one.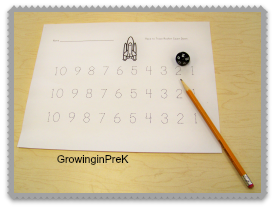 Lots and lots of educational space fun!

| | |
| --- | --- |
| Posted by Eilis on June 10, 2012 at 3:20 PM | |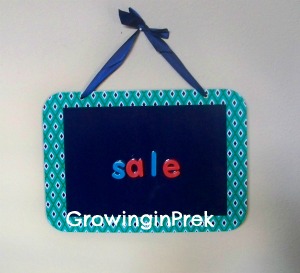 I found this metal sign (complete with ribbon) in the party aisle at Walmart for 97 cents. There are several different designs.  Just add your own magnetic letters and you have a cheap and easy sign for the dramatic play center.
| | |
| --- | --- |
| Posted by Eilis on November 30, 2011 at 2:00 AM | |
Anna Dewdney really puts her finger on how hard it is for preschoolers to wait for Christmas in Llama Llama Holiday Drama! Follow the link and scroll down to see a video of her reading the entire book.
A wise preschool teacher once told me that she put a Christmas tree in the dramatic play center for the kids to decorate and undecorate to their hearts content since the Christmas tree at home is usually "hands off."
The kids love this activity!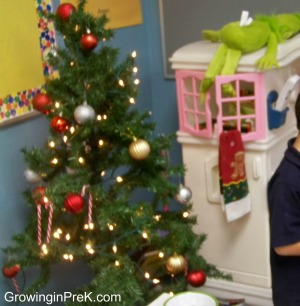 When I saw this picture, I had to laught at the poor Grinch in the upper corner.  Is he pouting?  Is all the Pre-K Christmas spirit just too much for him?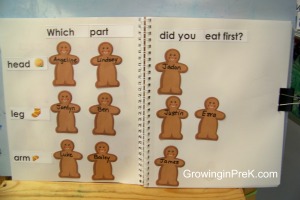 I usually do the gingerbread graphing activity in a pocket chart.  This year I decided to add it to our Big Math Journal.  You can print the words here: http://creativeprek.webs.com/Gingerbread_Pocket_chart_graph.pdf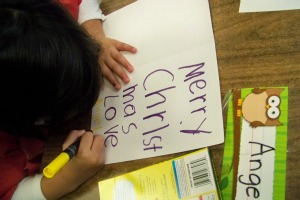 We made Christmas cards for senior citizens today.  Older students will be delivering them when they sing Christmas Carols.  Someone asked if she could glue on an extra die-cut gingerbread man left over from making the emergent readers.  I told her no, because I only had a couple.  I suggested that she could trace around it and draw on candy buttons if she wanted to.  Well, that ended up being the most popular activity of the day.  Funny how we spend so much time planning and the biggest successes are often unplanned!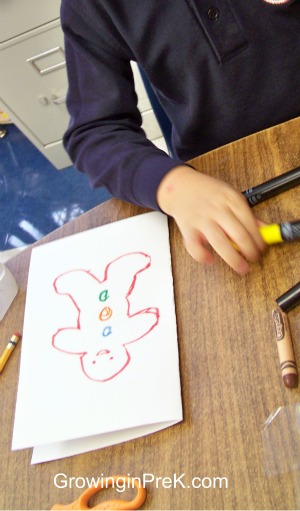 In another great moment of spontanity, today one student brought in a lizard his older brother had caught in their backyard.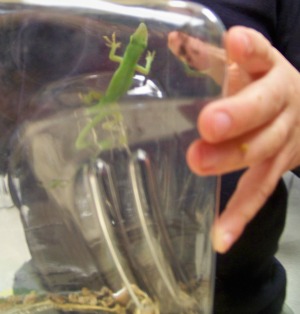 We re-read one of our favorites, A Color of His Own, in honor of our visitor.
Getting back to December....
How great is this?!  A group of creative bloggers is linking a different kid craft for each day of December until Christmas! 
Peace, Love, & Joy!
Eilis
| | |
| --- | --- |
| Posted by Eilis on October 8, 2010 at 7:11 PM | |
I have added Fall under the Themes menu.  I plan to add pictures soon of our pumpkin project.  We are putting some soil and water into a pumpkin and hoping it will grow...
Other classroom happenings...today was Grandparent's Day at our school.  We were short of tables for lunch in our classroom, so I pulled the red and white checkered table cloth off of a table in the dramatic play center and moved the table out to be used.  After lunch, the children had a free center time.  They immediately asked to use the checkered table cloth as a picnic blanket (in the dramatic play area).  These are the moments that I realize how much I love teaching four and five year old children!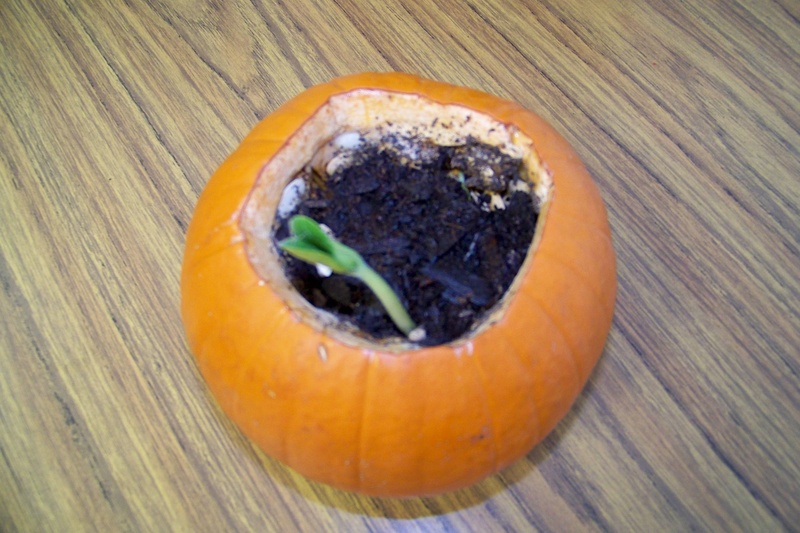 | | |
| --- | --- |
| Posted by Eilis on September 22, 2010 at 8:16 PM | |
| | |
| --- | --- |
| Posted by Eilis on April 12, 2010 at 3:59 PM | |
I had a lot of fun this weekend cutting out foam deli meats and felt cheese.  The kids loved it today! 
Printables and more photos available here: http://www.growinginprek.com/dramaticplay.htm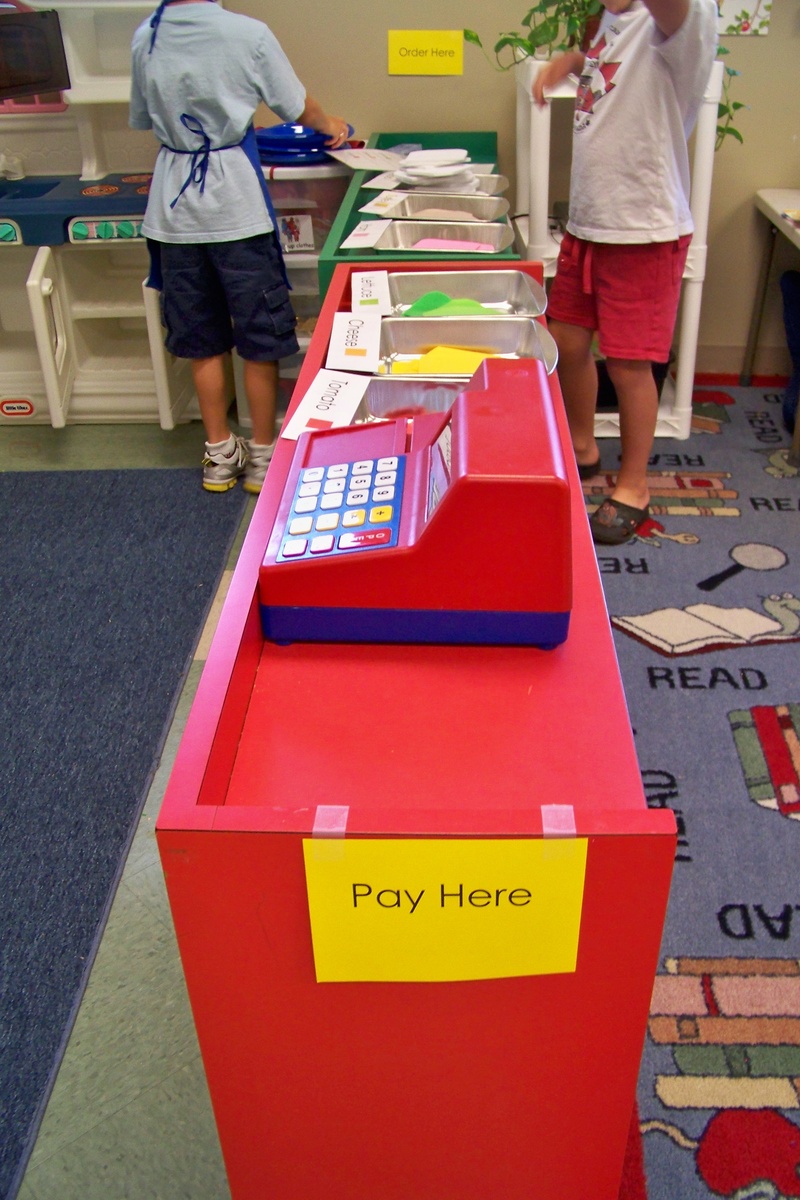 /