Shopping Cart
Your Cart is Empty
There was an error with PayPal
Click here to try again
Thank you for your business!
You should be receiving an order confirmation from Paypal shortly.
Exit Shopping Cart
| | |
| --- | --- |
| Posted by Eilis on August 27, 2012 at 12:10 AM | |
I wanted to show off this welcome bulletin board outside my classroom.  I am a BIG believer in covering bulletin boards in the kids' own art, but obviously I could not do that for the first day of school.  The school had hung these new bulletin boards outside our classrooms over the summer, and mine was covered in owls - yeah!  So....I looked on Teachers Notebook and found this adorable owl welcome banner to print, cut, and hang. Here's the link to the shop where I found it.  I downloaded the black and white ones for FREE here.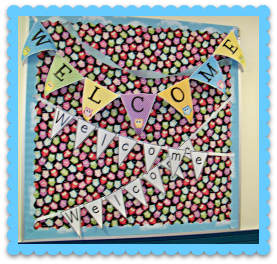 And here are some of my beginning of the year Fine Motor Tubs.  The kids do these for a few minutes as they arrive and unpack in the morning.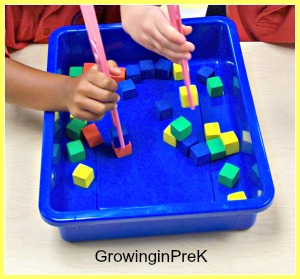 These are those foam cubes that the Dollar Tree carries.The goal is to use the chopsticks to build towers.  I have had the "training" chopsticks since my own kids were little.  I believe we got them when we ate Chinese/Japanese food at a restaurant.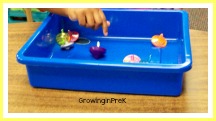 Most of these spinning tops came from the birthday party section at the grocery store.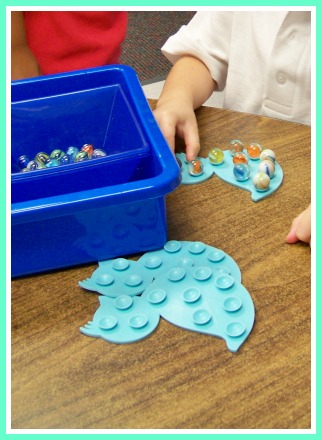 I have wanted to do this  marble and bath mat activity that I saw on Prekinders.com for a long time.  I saw the little ducks on clearance at Target this summer and knew it was time to stop thinking about it.  

| | |
| --- | --- |
| Posted by Eilis on June 10, 2012 at 3:45 PM | |
I found a very affordable set of 12 mini tongs in the party section at my grocery store.  The whole bag was $1.57.  They are disposable quality, but really should hold up to lots of classroom use.  I plan to have the kids pick up little things with them to develop fine motor skills.  I included a crayon in the photo to show how small they are.
The answer to a good question: I purchased them at H.E.B.  The brand is "unique."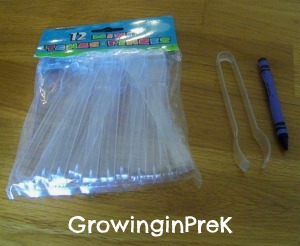 | | |
| --- | --- |
| Posted by Eilis on June 9, 2012 at 10:20 AM | |
I attended a very inspiring training at Region 4 in Houston this week.  Maria Gonzales and Diana Morales from Aldine I.S.D. presented "Little Hands Investigating Science."  They teach at a Pre-K only campus that has 600 or more students - imagine!  Their campus has a permanent science room  which they visit to teach science lessons and rotate the students through science centers.  They shared many great hands-on activities that we could bring back to our classrooms.  There were many great make and takes.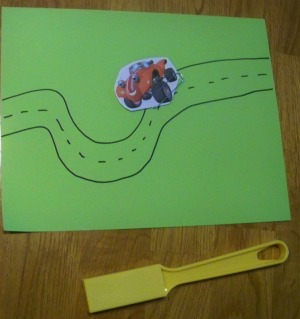 One was this print and cut out car.  We attached a large paper clip to the car and used a magnetic wand behind the cardstock "road" to manipulate the car on the track.  Fun and easy!
They also shared this sentence strip magnetic activity.  Four items are taped to a sentence strip.  Note the inexpensive magnetic wand!  They just attached an adhesive magnetic dot to a tongue depressor. They send these items home with their students to share  what they have learned about magnets. (The magnet is attracted to some of the items, but not others). They emphasized telling students not to touch anything electronic with the magnets.  I would only send these magnets home if I could speak directly to the parents first.  It would make an excellent activity for an open house night.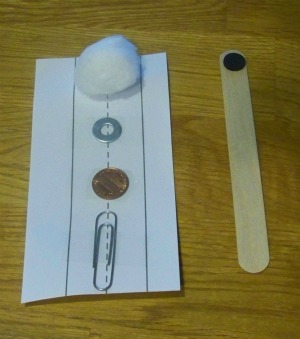 These activities inspired me to creat a an interactive emergent reader about magnets.  You can print it HERE.  I laminate each page and then tape (the top only) of a snack size plastic bag  with the appropriate item in it.  I attach one magnetic wand to the book using a short string.  On each page the kids can test whether the item is attracted to the magnet.  If it is, the bag will lift up as the magnet is held over it. (The bag pictured is a sandwich size bag with the top half cut off).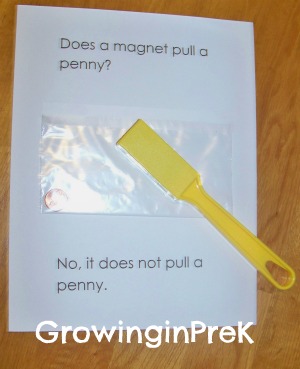 I took this picture before laminating, binding, and attaching the magnet because I find that the lamination doesn't photograph well.  
I would love to hear your comments!!
| | |
| --- | --- |
| Posted by Eilis on January 4, 2012 at 10:55 PM | |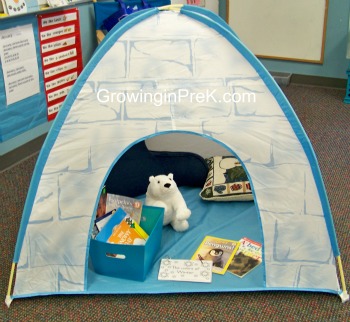 $9.99 igloo tent from IKEA - Two kids at a time go in to read winter books.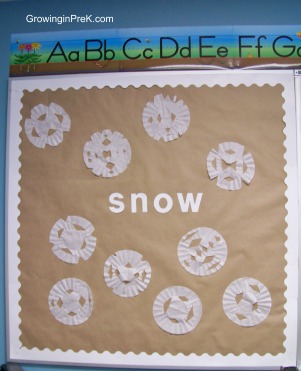 Our coffee filter snowflakes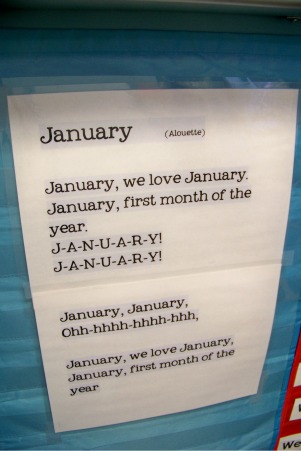 Warning:  this song is very catchy.  I heard it over and over all day today.....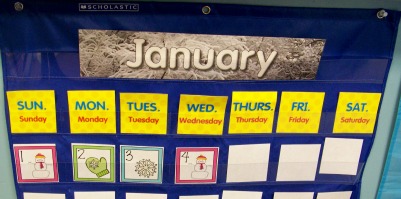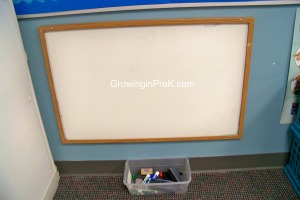 Thanks to a hand-me-down dry erase board, I finally have the vertical writing area that I have wanted ever since I attended a Write Out of the Box fine motor skills workshop.
| | |
| --- | --- |
| Posted by Eilis on September 8, 2011 at 7:05 PM | |
I combined some ideas that I found on two very creative kindergarten sites: http://fairydustteaching.blogspot.com/2011/04/in-tall-tall-grass.html and
http://thesunshineshack.blogspot.com/2011/05/in-tall-tall-grass.html to come up with a Pre-K version of this project.  I LOVE the grass cutting part.  I have lots of kids who are using scissors for the very first time.  This gives them great practice and really works on those fine motor skills.  I also LOVE the book, In the Tall, Tall Grass.  Lucky me, I have big book version of it.  It is so engaging for young learners.  It includes pictures they love, big clear print, AND rhyming and alliteration.  It's just an all around great choice for an for early childhood read aloud.  So here's what I came up with: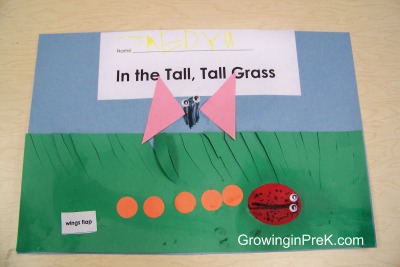 After cutting the "tall grass,"  each child created insects from construction paper shapes, google eyes, and markers.  Each child also chose a phrase from the book to glue onto the grass.
Here's the printable:  http://www.growinginprek.com//In%20the%20tall%20tall%20grass.pdf
| | |
| --- | --- |
| Posted by Eilis on August 23, 2011 at 6:25 PM | |
I picked up a set of those uppercase alphabet stamps for $2.50 at the Target Dollar Spot this summer.  I later saw this kindergarten blog post http://keenonkindergarten.blogspot.com/2011/07/dear-target.html where the teacher suggested that she was going to have her students stamp play doh with them instead of ink and paper.  I love this idea on so many levels!  We tried it today.  It is just the fifth day of school, so some of the kids were stamping their names, others were just experimenting with the whole idea of rolling out the play doh and pressing the stamps in.  It was a big hit!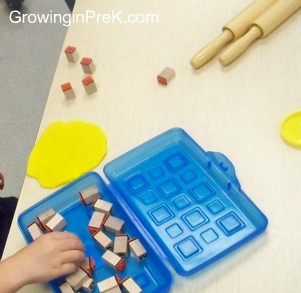 | | |
| --- | --- |
| Posted by Eilis on July 5, 2011 at 10:35 PM | |
These printable patterning activities have a literacy twist.  The kids will be looking at color words (in color ink) while they are working on patterning.  I cut one inch squares of craft foam to use with them.  Other possibilities would be construction paper squares, buttons, or pom poms.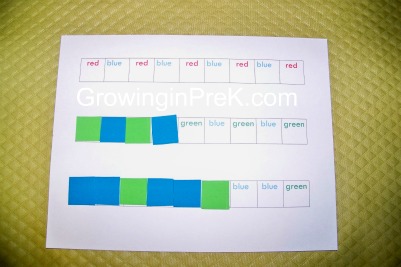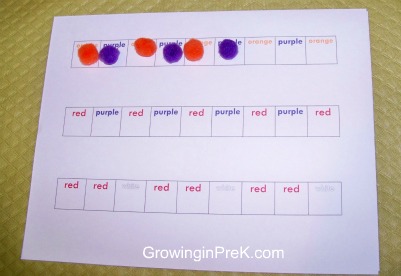 There are four different sheets to print:
http://www.growinginprek.com//color%20pattern%201.pdf
http://www.growinginprek.com//color%20pattern%202.pdf
http://www.growinginprek.com//color%20pattern%203.pdf
| | |
| --- | --- |
| Posted by Eilis on June 9, 2011 at 8:20 PM | |
I picked up this matching game because I liked the pictures with words.  I was happily surprised to discover a folded mat to play on in the box.  It definitely needs laminating, but how can you beat an activity like this for a dollar?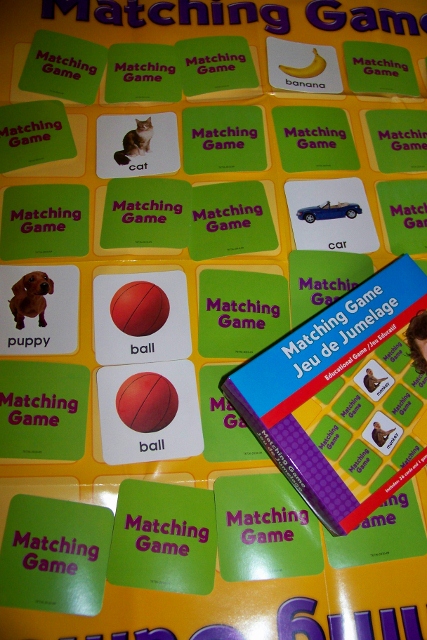 Also, I had recently seen an idea for having kids weave ribbon through a wire shelf rack.  Looks like a great fine motor activity.  Guess what- Dollar Tree has those wire racks.  I wish I could find the original source of this idea, please let me know if you know of it.  I also purchased 3 yard rolls of wired ribbon (in Christmas colors) for a dollar, but I found these at Michael's.
Update:  The source of the idea was the wonderful Prekinders site.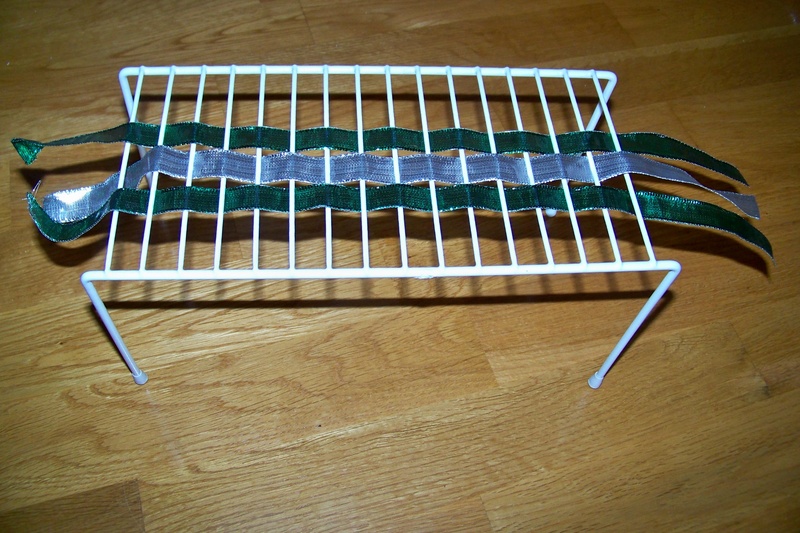 | | |
| --- | --- |
| Posted by Eilis on June 8, 2011 at 12:40 AM | |
I saved these black plastic trays from individual portions of Stouffer's Macaroni and Cheese (frozen).   They are perfect for adding a little salt and letting the kids draw letters with their fingers.  They also fit nicely into a quart size ziploc bag.  Don't you just love the bags with the actual zippers on them?!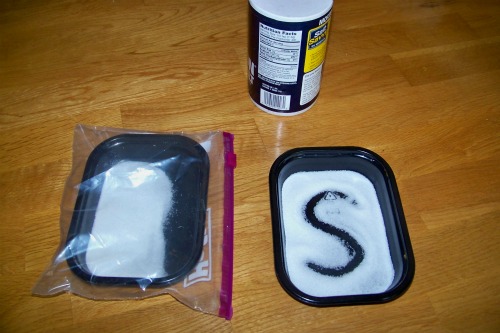 I printed these sheets from www.firstpalette.com.  They work well for matching alphabet band bracelets.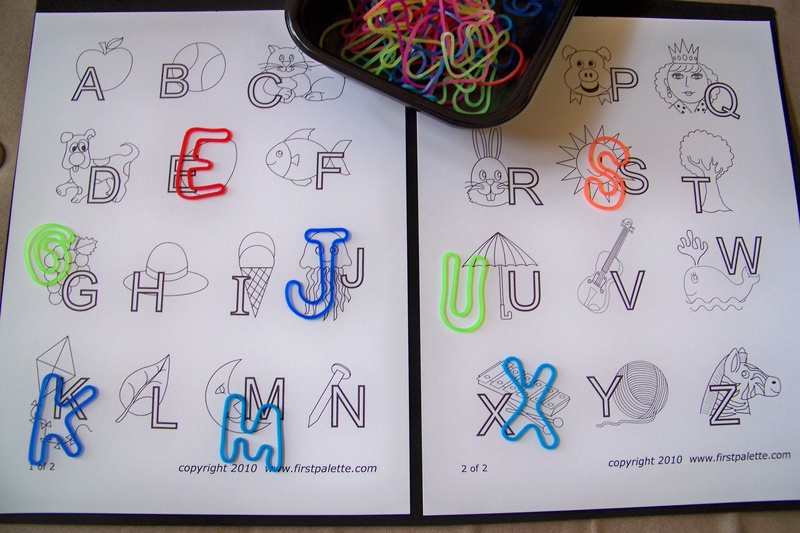 | | |
| --- | --- |
| Posted by Eilis on June 6, 2010 at 8:58 PM | |
I find that my students are more interested in centers that involve "real" items.  For that reason I (and to incorporate fine motor skills like picking up small items) , I am creating some new centers this summer.  Today I made shape mats which can be printed from the Printables and Centers pages.  I  am giving the students items such as dominoes, bottle caps, etc. to categorize by shape.
| | |
| --- | --- |
| Posted by Eilis on May 7, 2010 at 12:46 PM | |
I went to a great workshop yesterday on helping preschoolers develop the fine motor skills they will need  for writing.  The presenter is a school occupational therapist. She has a website called Write out of the box and I am not doing a commercial for her but wanted to share some of the ideas in case they can benefit anyone else. She had one activity where two kids pulled on a long sock using both hands for five seconds as they made a particular letter sound. B(pull)-B(pull) etc. It was easy to see after trying it ourselves that it really engages learning. Another tip was to have the kids hold a cotton ball (she called it a pillow) under their pinky and ring finger when picking up small items with a tweezer. It helps the to develop the the pencil grasp in their thumb and first two fingers. She also suggested have a tub full of things like the cards the fall out of magazines for cutting practice. Ask parents to donate their junk mail. Apparently the heavier paper is better for beginners than copy paper. She also suggested breaking crayons into small pieces to encourage kids to hold them with the thumb and two fingers that they will need later. She also suggested golf pencils because the short length encourages correct position. Her main tips involved having kids write on vertical surfaces, like a doubled piece of bulletin board paper or lying on their backs writing on paper attached under a table because it is better for them developmentally than writing on a horizontal surface.
/