Shopping Cart
Your Cart is Empty
There was an error with PayPal
Click here to try again
Thank you for your business!
You should be receiving an order confirmation from Paypal shortly.
Exit Shopping Cart
| | |
| --- | --- |
| Posted by Eilis on December 1, 2012 at 10:35 AM | |
It's December!  I am supposed to be outside putting up decorations....but I had to add this new FREE printable first!  
Merry Christmas!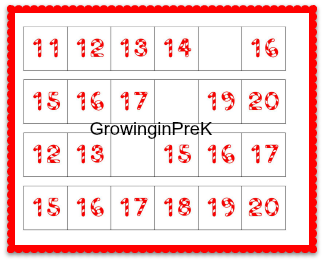 Click on the picture to take you to my Teachers Notebook Shop to download it FREE.  (Please follow my shop too.)
It is part of my Sweet Stuff Numbers 1-20 Printables which is $1.50 and includes an I have who has game,
a gingerbread number hunt,
and three December worksheets (patterning, addition with pictures, and cut and paste missing number).

| | |
| --- | --- |
| Posted by Eilis on September 14, 2012 at 10:25 PM | |
Take away stories like the "The 5 Little Owls" are such a great way to introduce children to the concept of subtraction.  They are having so much fun that they don't realize they are learning.  That's my favorite kind of teaching.... so I have made a printable emergent reader of the 5 Little Owls.  Included in the printable is a Five Frame math mat so each student can manipulate their own five owls as they listen to the story.  There is also a roll and cover dice game and a pocket chart song.  The set is one dollar at my Teachers Notebook Shop.  I try to offer my printables at very reasonable prices, and your purchases allow me to purchase the clipart I use.  This clipart came from Cherry Clipart.
And here is a FREE PRINTABLE puzzle: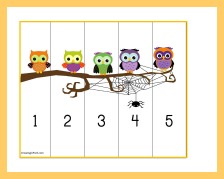 Just click on any of the pictures to go to my
Hugs,

| | |
| --- | --- |
| Posted by Eilis on August 5, 2012 at 3:05 PM | |
I am very excited about an ice cream themed set of printables that I have posted on my new Teachers Notebook store.  The clipart is from
KPM Doodles. The set includes a class book cover, a black and white class book page, a color class book page, a pocket chart graph question, a number 1-10 puzzle, a pocket chart for shared reading, a set of color word matching cards, and the numbered ice cream cones pictured below. The set is available HERE The ice cream bowls and spoons pictured came from the Dollar Tree.  The "sprinkles" to count are tiny pom poms.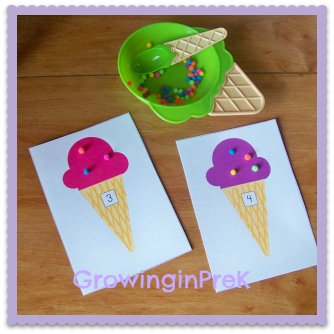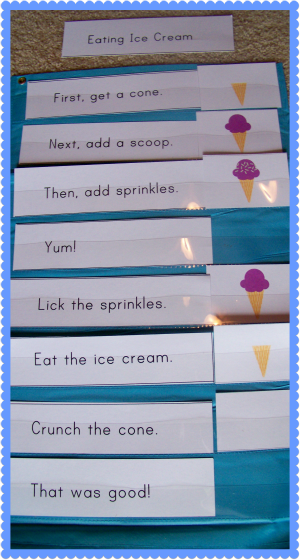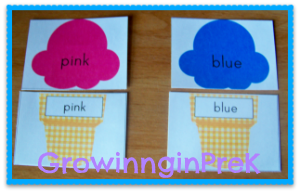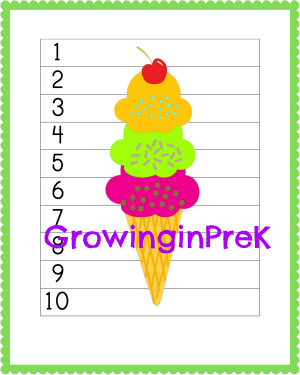 | | |
| --- | --- |
| Posted by Eilis on June 14, 2012 at 2:45 PM | |
I hope everyone is having a wonderful summer.  I am finally catching up on things.  What do you think of GrowinginPreK's new look?  I have been playing with it for the last couple of days, but thought it was time to put some new printables up.  The fire engine number puzzle has been one of the most popular printables on this website.  I made a few more incorporating photos of real animals. I like to print these on cardstock, laminate, and then cut  using a paper cutter.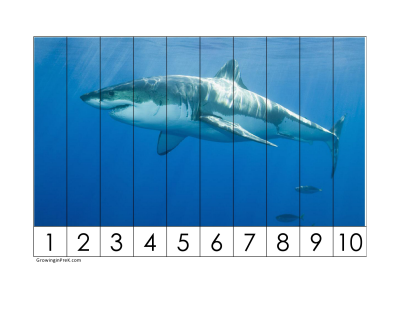 You can print them here:
Please be sweet and leave a comment if you use these.
Eilis
| | |
| --- | --- |
| Posted by Eilis on August 4, 2011 at 4:25 PM | |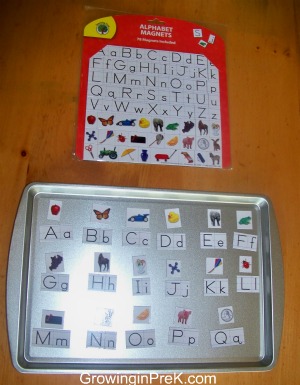 I bought the cookie sheets there as well.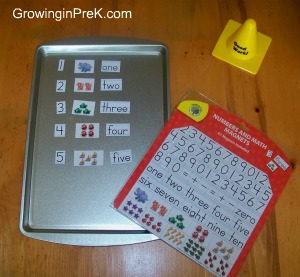 The little yellow cone says "Good Work!"  I think I will put it near groups of children who are working well together.
| | |
| --- | --- |
| Posted by Eilis on July 15, 2011 at 10:57 AM | |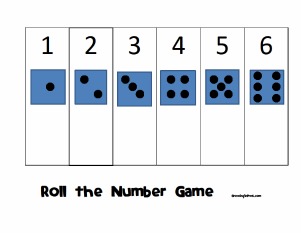 This is a simple version of the dice games I love on kindergarten and first grade blogs.  You will need one die with either dots or numbers on it.  Each player will need a copy of this game board and six manipulatives.  I am going to give them six bottle caps with the numbers one to six on them.  First each player will place the correct numbered bottle cap in the appropriate number column.  Then, players take turns rolling the die.  The player will remove the number that he/she rolled.  If the player no longer has that number, he/she will not remove any number during that turn.
Print it here: 
| | |
| --- | --- |
| Posted by Eilis on July 5, 2011 at 10:35 PM | |
These printable patterning activities have a literacy twist.  The kids will be looking at color words (in color ink) while they are working on patterning.  I cut one inch squares of craft foam to use with them.  Other possibilities would be construction paper squares, buttons, or pom poms.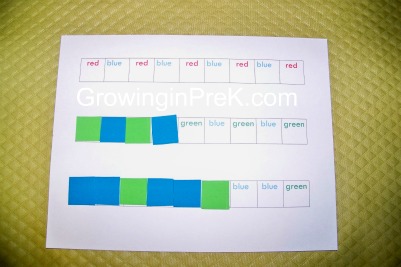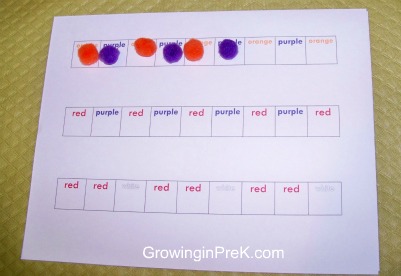 There are four different sheets to print:
http://www.growinginprek.com//color%20pattern%201.pdf
http://www.growinginprek.com//color%20pattern%202.pdf
http://www.growinginprek.com//color%20pattern%203.pdf
| | |
| --- | --- |
| Posted by Eilis on June 7, 2011 at 9:40 PM | |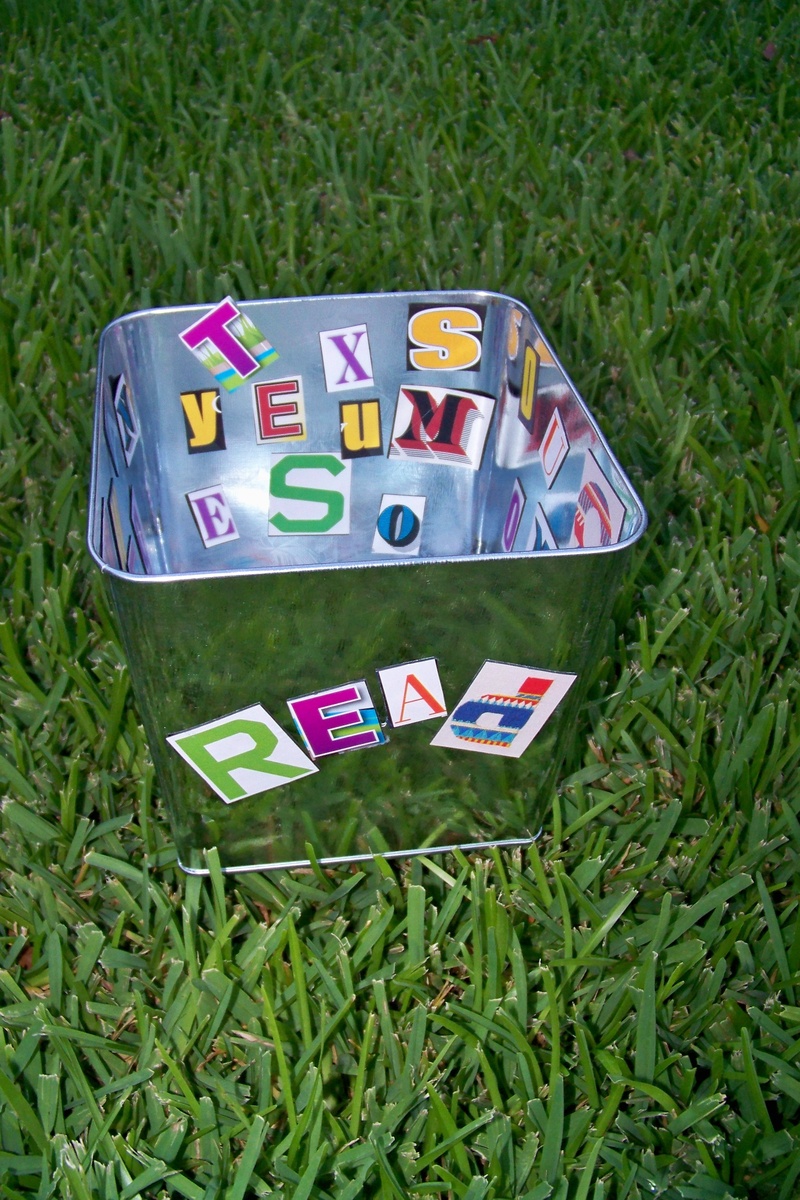 This is another fun idea for the ABC center that I discovered at Pinterest.com.  The original source of the idea is http://www.ohdeedoh.com/ohdeedoh/recycled-packaging-magnets-137520 . So, I cut out colorful letters from old magazines (my son's ESPN Magazines were very fruitful...) and purchased one self-adhesive magnet sheet at Hobby Lobby for $2.99.  I placed all my letters all over the sticky side of the magnet sheet and then began cutting.  This was VERY easy, but if doing it again, I might cut the letters out big and sloppy from the magazines and then tidy them up when cutting them out on the magnet sheet.  Anyway, here is the project.  I purchased the container in the seasonal aisle at Target today for $2.  I love that the letters can be stored in it, and there are four flat surfaces for kids to make words on. 
Below: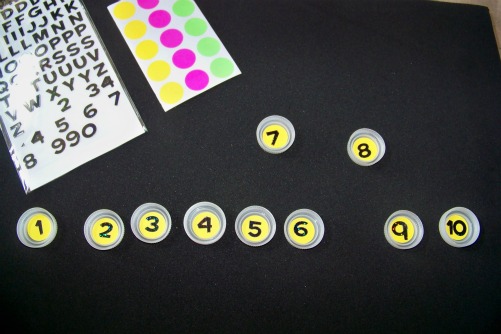 My computer is confused and wants to show you this picture instead of the picture of how to make the alphabet magnets (same picture number).  So, let's just go with it.  I made these bottle cap math manipulatives with garage sale price stickers after seeing the idea on http://msv1stgrade.blogspot.com/search/label/alphabet.
| | |
| --- | --- |
| Posted by Eilis on June 4, 2011 at 3:15 PM | |
I have added some counting printables to the Math Center page.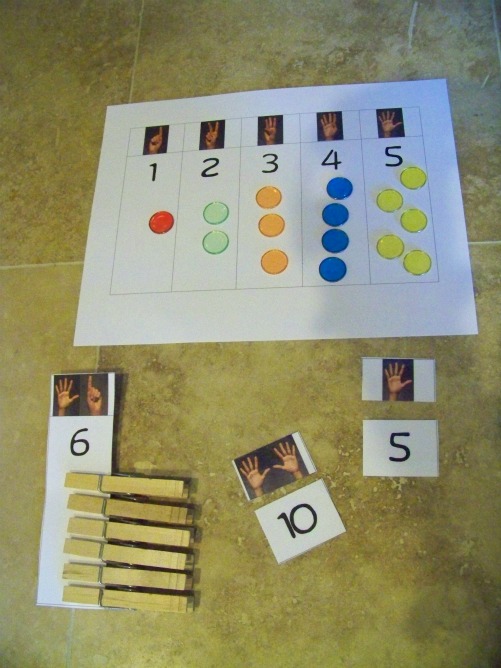 | | |
| --- | --- |
| Posted by Eilis on July 29, 2010 at 12:56 PM | |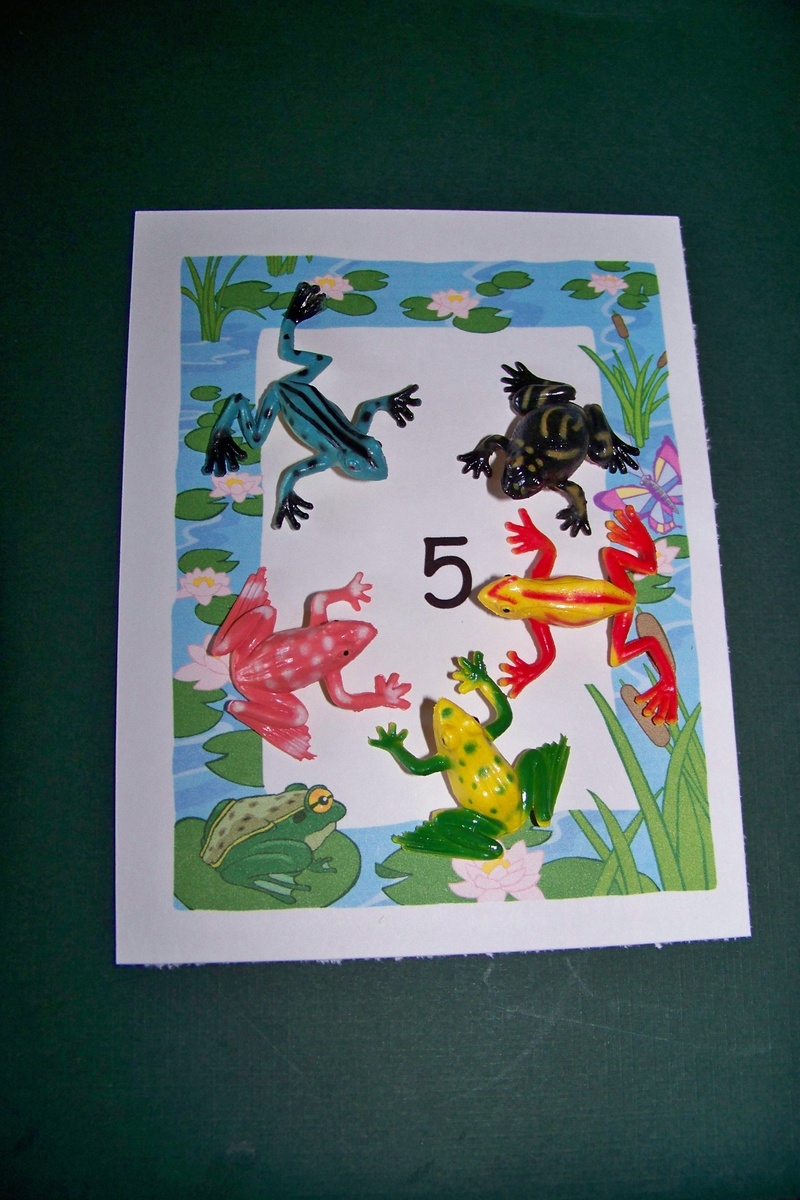 I am putting some math tubs together.  The first one is frog counting.  It can be found in Math Center and in Printables.  I have also added a new dice game in which players add flowers to their game cards.
| | |
| --- | --- |
| Posted by Eilis on July 27, 2010 at 10:59 AM | |
I have added two new printables to the Math Center page.  One is Pumpkin Counting the other is a dice graphing game for shapes.  Check them out.:)
Also, I am very excited about a new project.  I am making a big math journal for our class to do together.  I got the idea from Kathryn at KindergartenKindergarten.com.  I don't think my Pre-K students are ready for individual math journals, but I do think they will love learning about math concepts in this way.  My first question is:  Do we have more boys or girls in our class?  I plan to have the kids help me count, represent the numbers with pictures of boys on one side and girls on the other side. Then, once we have decided, we will show the answer with a less than or greater than sign in the middle.  I plan to leave this big book out so kids can look back at what we have done.  In case you can't tell, I am very excited about trying this!
| | |
| --- | --- |
| Posted by Eilis on July 25, 2010 at 12:55 AM | |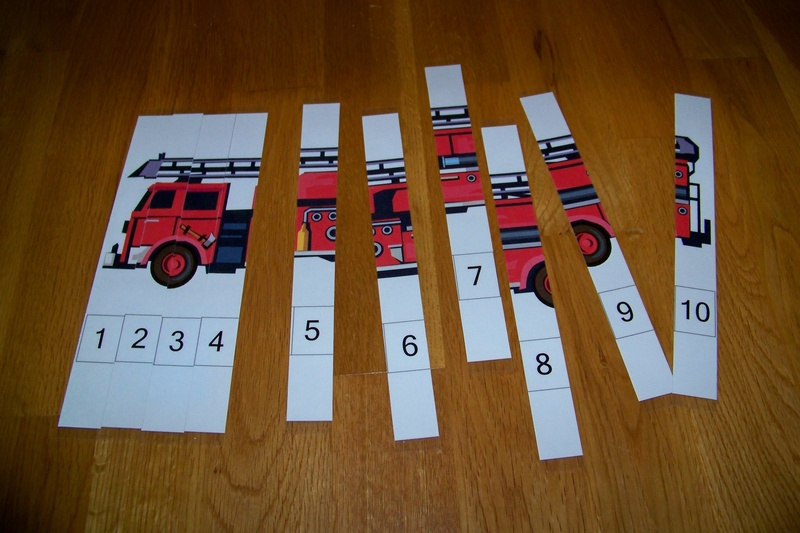 I made a couple of printable number puzzles today (Math Center & Printables).  I am only limited by my clip art.  I included a blank in case you want to attach pictures from magazines, etc. before laminating.  I have done this with some old Ranger Rick magazines with great results. 
| | |
| --- | --- |
| Posted by Eilis on June 6, 2010 at 8:58 PM | |
I find that my students are more interested in centers that involve "real" items.  For that reason I (and to incorporate fine motor skills like picking up small items) , I am creating some new centers this summer.  Today I made shape mats which can be printed from the Printables and Centers pages.  I  am giving the students items such as dominoes, bottle caps, etc. to categorize by shape.
/