Shopping Cart
Your Cart is Empty
There was an error with PayPal
Click here to try again
Thank you for your business!
You should be receiving an order confirmation from Paypal shortly.
Exit Shopping Cart
| | |
| --- | --- |
| Posted by Eilis on June 10, 2012 at 3:20 PM | |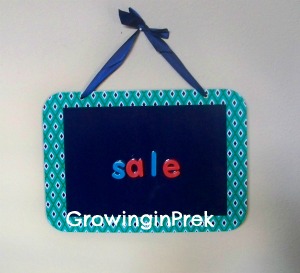 I found this metal sign (complete with ribbon) in the party aisle at Walmart for 97 cents. There are several different designs.  Just add your own magnetic letters and you have a cheap and easy sign for the dramatic play center.
| | |
| --- | --- |
| Posted by Eilis on March 25, 2012 at 5:50 AM | |
Look at these cute magnifying glasses that I picked up in the Easter section at Walmart this week.They were 97 cents each.  Yes, they even magnify
.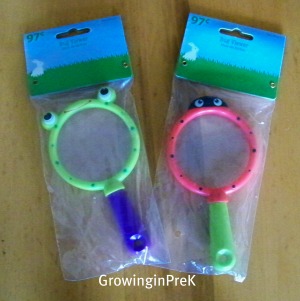 Happy Spring!
| | |
| --- | --- |
| Posted by Eilis on August 23, 2011 at 6:25 PM | |
I picked up a set of those uppercase alphabet stamps for $2.50 at the Target Dollar Spot this summer.  I later saw this kindergarten blog post http://keenonkindergarten.blogspot.com/2011/07/dear-target.html where the teacher suggested that she was going to have her students stamp play doh with them instead of ink and paper.  I love this idea on so many levels!  We tried it today.  It is just the fifth day of school, so some of the kids were stamping their names, others were just experimenting with the whole idea of rolling out the play doh and pressing the stamps in.  It was a big hit!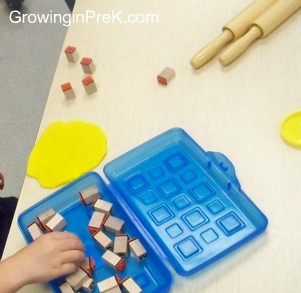 | | |
| --- | --- |
| Posted by Eilis on August 7, 2011 at 7:00 PM | |
I went to my local teacher supply store yesterday.  It was full of beautiful things, but wow - I have gotten to used to Target and Dollar Store type prices.  A large Dollar Tree is located in the same shopping center.  I figured I might as well check it out while I was there.  Guess who was there?  All the same teachers that I had seen browsing at the Teacher Supply moments earlier...  The clerk told us that there had been a steady stream of teachers for days.
So here are the treasures I found: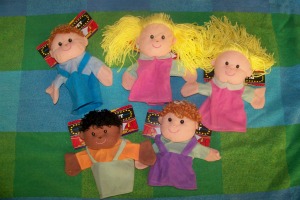 Small kid puppets.  I picked up two of the girl in the pink dress, since pink is always highly sought after by four-year-old girls.  They can always be twins!   The blue and pink boy and girl also make me think of Jack and Jill.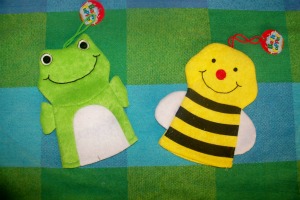 How cute are the bath mitts as puppets?!  I plan to bring them out when we are reading about frogs and bees.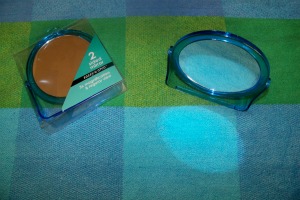 Mirrors with stands.  I know they are not the shatterproof ones, but plan to set them up (under close supervision) when the kids are drawing self portraits during the "me" theme.  I think the kids will enjoy one side being regular and the other being magnified.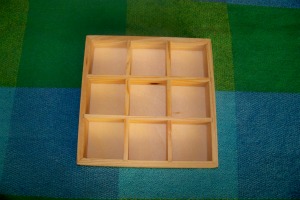 The cute little boxes I keep seeing on pinterest for sorting, counting, tic tac toe, etc.  Silly me, I thought they were some expensive Montessori materials.
http://learningwithbella.tumblr.com/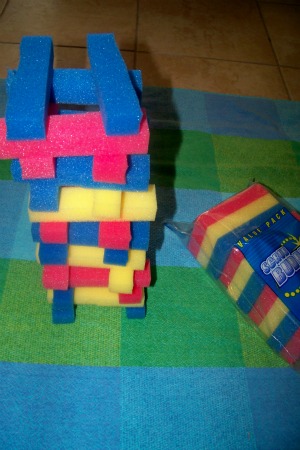 And last, but not least, sponges.  I saw this idea on Pinterest as well:
http://toddlerapproved.blogspot.com/search/label/Sponges.
At 8 sponges for a dollar (I cut each sponge into 3), I ended up with 24 pieces for a dollar. Definitely fun and budget friendly (not to mention quiet and offering unlimited open-ended play ideas).
For a grand total of 12 dollars!  Have I mentioned that I love Dollar Tree?!
| | |
| --- | --- |
| Posted by Eilis on August 4, 2011 at 4:25 PM | |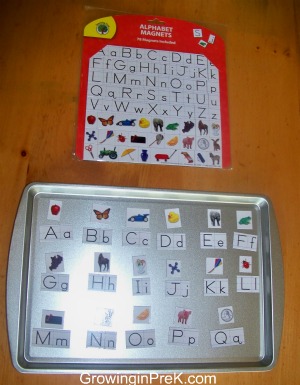 I bought the cookie sheets there as well.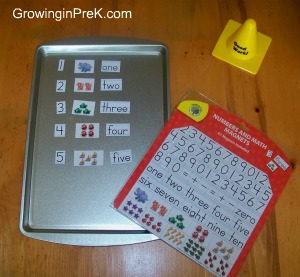 The little yellow cone says "Good Work!"  I think I will put it near groups of children who are working well together.
| | |
| --- | --- |
| Posted by Eilis on July 21, 2011 at 2:50 PM | |
Have I mentioned my new addiction - Pinterest ?!  If you haven't tried it, you really should.  It's like being able to visit hundreds of classrooms and see what teachers have come up with.  (There are other topics there too:  food, beautiful places, quotes, you name it...)  Karen at Prekinders has given an excellent introduction for new "pinnners" on her blog. http://prekinders.com/2011/07/pinterest-for-teachers/ (Yes, I made the list of teachers who have been busy pinning....)  Anyway, I found this basic idea on Pinterest yesterday.  The source was http://secondinshawnee.blogspot.com/.  On that blog it was being used to match homophones (second grade).  It lends itself so well to Pre-K!  I picked up this puzzle at the Target Dollar Spot today.  I wrote matching upper and lower case numbers with a Sharpie and it's ready to go.  (The puzzle has 36 pieces, so some pieces are left blank).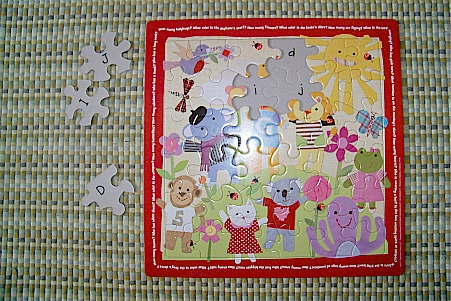 | | |
| --- | --- |
| Posted by Eilis on June 30, 2011 at 10:20 PM | |
| | |
| --- | --- |
| Posted by Eilis on June 25, 2011 at 7:27 PM | |
 to the Dollar Spot at Target.  Look what I got there today: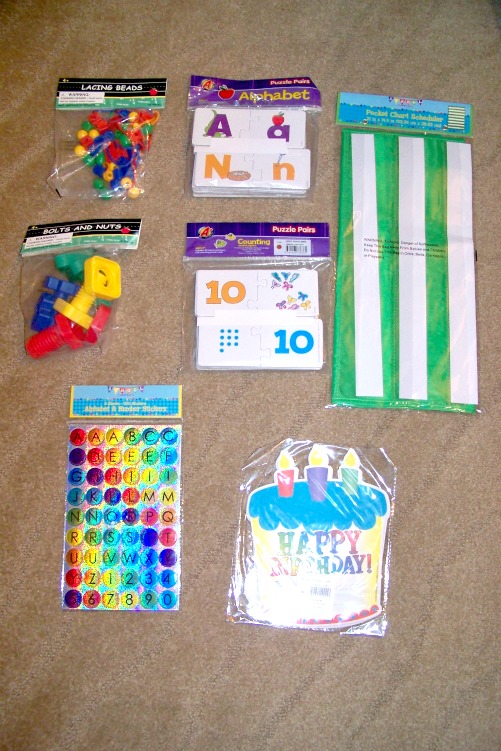 The stickers will be perfect for bottle caps.  I bought two of the pocket charts in the same color so I can attach them together using self-adhesive velcro.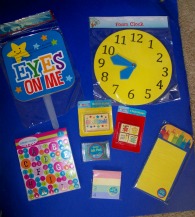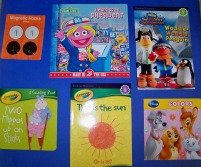 A sign, a foam clock, stamps and a stamp pad (I feel like an I Spy book...)
I also found some magnets for hanging pocket charts on my dry erase board and lots of great concept books. It is hard to say no to things for one dollar!!!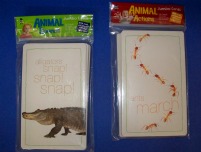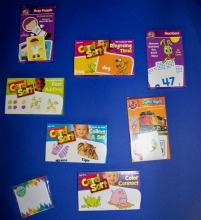 The  animal action cards will be great for rainy days.  I will hold them up and have the kids perform the actions.
The packages of cards include rhyme matching and a couple of sorts.  The sign and community helper flashcards will be great for a bulletin board or class book.  The dotted number cards will be great for sequencing in a math tub.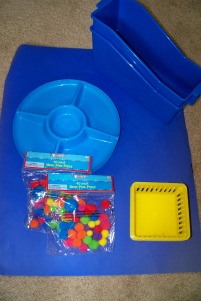 A couple more book boxes.  I will store student folders and journals in these. The pom poms will be for sorting by size or color.  I actually have rectangular three section trays that I will use with the pom poms.  I still had to take the circular trays for sorting buttons, coins, etc.  The little yellow square baskets are great for crayons and manipulatives.
| | |
| --- | --- |
| Posted by Eilis on June 9, 2011 at 8:20 PM | |
I picked up this matching game because I liked the pictures with words.  I was happily surprised to discover a folded mat to play on in the box.  It definitely needs laminating, but how can you beat an activity like this for a dollar?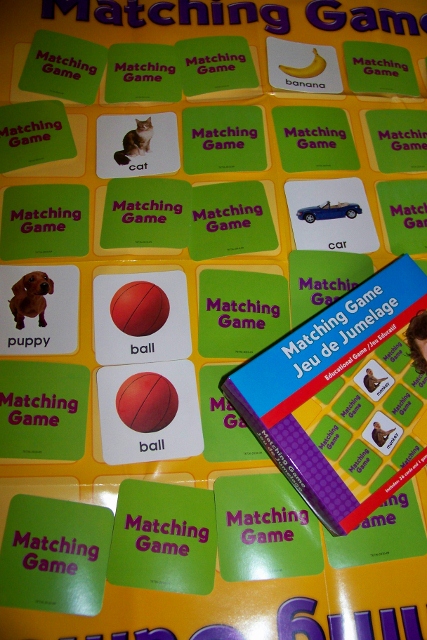 Also, I had recently seen an idea for having kids weave ribbon through a wire shelf rack.  Looks like a great fine motor activity.  Guess what- Dollar Tree has those wire racks.  I wish I could find the original source of this idea, please let me know if you know of it.  I also purchased 3 yard rolls of wired ribbon (in Christmas colors) for a dollar, but I found these at Michael's.
Update:  The source of the idea was the wonderful Prekinders site.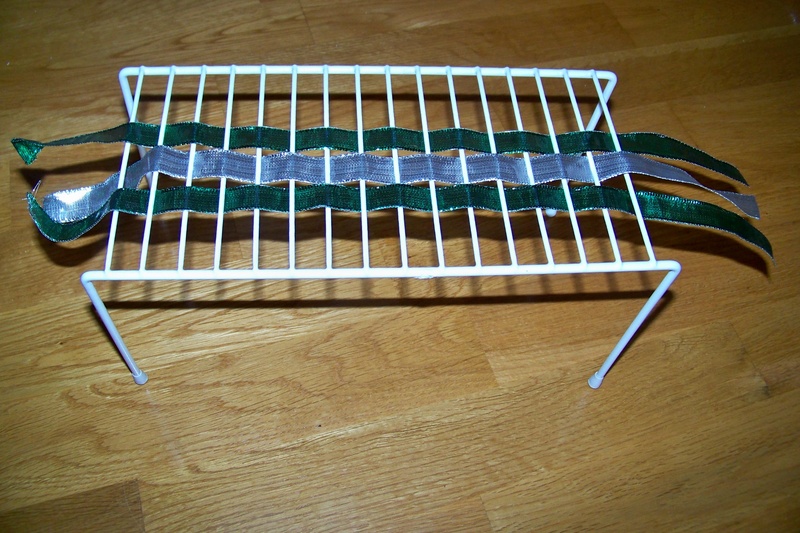 /