Shopping Cart
Your Cart is Empty
There was an error with PayPal
Click here to try again
Thank you for your business!
You should be receiving an order confirmation from Paypal shortly.
Exit Shopping Cart
| | |
| --- | --- |
| Posted by Eilis on August 26, 2012 at 11:45 PM | |
I firmly believe in "Free Choice Centers" in Pre-K.  I want the kids to have plenty of time to choose their activities.  However, with blocks, dramatic play, art, puppets, the sensory table, and more available, I find that the abc center, listening center, and math center are often overlooked.  Last year, I remedied the math center problem by creating a set of math tubs and sending the entire class to math tubs during "Math Tub Time."  This year, I am adding a 20-30 minute literacy station time.  I have been reading about Daily 5 and pulling some age-appropriate ideas from it. I was very inspired by Lil Country Kindergarten's Daily 5 in Pictures.
I have ten students, so I set up 5 literacy stations (writing, abc work, listening, reading books, and working with the teacher).  I made a schedule so that two kids visit one station each day.  (I put folded name cards out so the kids know which station to go to,)  We are doing Literacy Stations when the students return from outclass, so I have a few minutes to set things out.  By the end of the week, everyone has been to all five stations. This worked REALLY well during the first week of school.  Here are some pictures:
Writing Station:  The students rainbow traced their names.  (I had written them lightly in pencil.)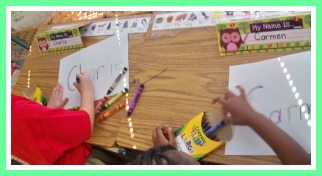 Reading Books Station: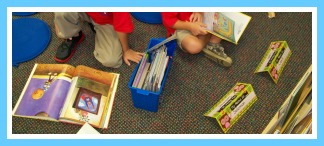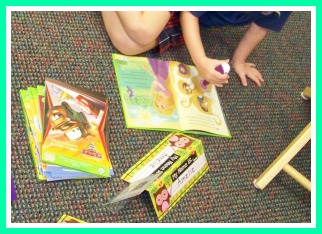 I have two readers and several books.  I have downloaded all my books to both Tag readers, so kids can use either one with any of my books.
ABC Station: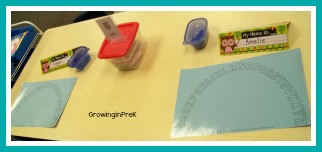 For the first week, the kids placed letters on the alphabet arches and after putting those away, they did alphabet matching puzzles.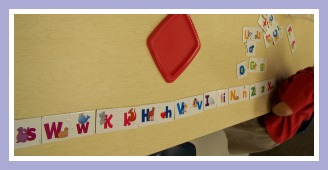 Work with the Teacher Station: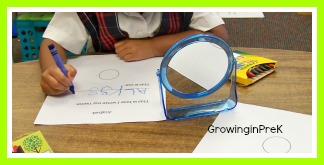 The kids worked on the first page of "My Year in Pre-K" with me at this station.  You can print your own copy HERE. I purchased the mirror at The Dollar Tree.  The kids loved looking in it while they drew themselves.
We also have Listening Station - sorry, no photos.
I hope to add some more pictures over the next few weeks as the activities at the stations change and progress.

| | |
| --- | --- |
| Posted by Eilis on August 2, 2012 at 11:25 AM | |
I am working on turning some great "pins" into some actual ABC center activities.  I just love this idea where the kids match upper and lowercase letters on the wheels of cars.  I changed the activity a little by purchasing cute car cutouts, adding alphabet stickers to the wheels, and cutting off one wheel.  The kids will be putting the correct lowercase wheel on the car with the corresponding uppercase wheel.  (Another option would be to cut the cars in half.)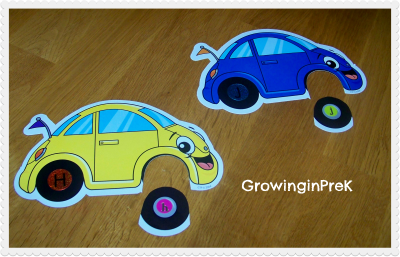 I found the cars at my local teacher supply store, but they have them at Amazon.
I also made an alphabet stamping printable.  I have seen this on many different teacher blogs (including THIS one), but decided to make several printables to use and share them here.  There are both upper and lowercase versions.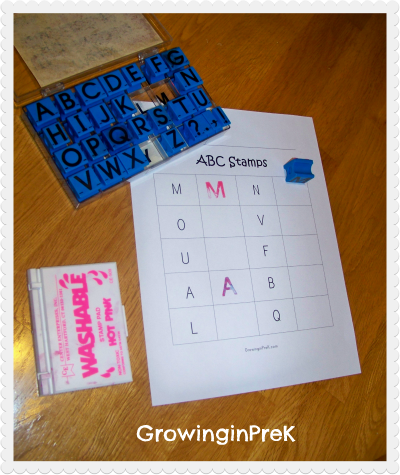 Letter Stamping 1                                         Letter Stamping 2
Letter Stamping 3                                         Letter Stamping 4
Letter Stamping 5                                         Letter Stamping 6
Here are some stamps at Amazon:
And here is my favorite new ABC center: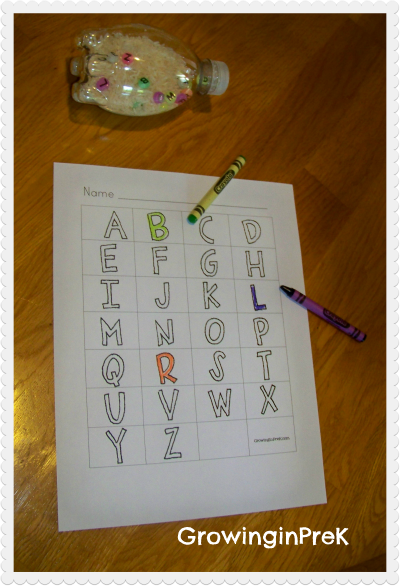 I just put some colorful letter beads (one of each letter of the alphabet) and rice in an empty water bottle.  I will have the kids color in these alphabet letters as they find the beads.  Pretty tricky letter practice....
You can print the Alphabet Sheet HERE.  The printable is two pages (one uppercase and the other lowercase).
As always...if you print anything from here, I would love a comment or a Facebook Like.
Eilis
| | |
| --- | --- |
| Posted by Eilis on June 18, 2012 at 9:45 PM | |
Sometimes I see an idea on Pinterest...and there is just no stopping until I have used it.  This is one of those times.  I saw this storage box idea.
I thought about the letter tiles 
that I use at the beginning of the year for names and just knew I needed a similar storage box.  For one thing, it will be so much easier for the kids to find the letters they need.  I also love the idea of the kids learning to put the tiles back in the appropriate sections.
 I found it at Jo-Ann's today. It was $7.99  (less my 15% teacher discount).  It's a Jewelry Designer NO SPILL Organizer by Darice.  We sure will test the NO SPILL part... but it really does close securely.  It has 32 sections (so a few will be empty).
 I added these stickers (both inside the compartments and on the lid).  I like associating a beginning sound photograph with the letters.
And here it is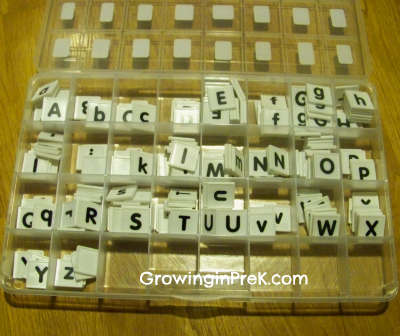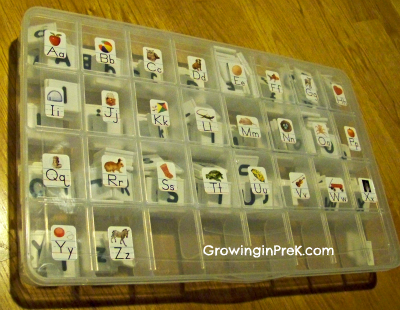 I was surprised to realize how many of some of the letters I have.  I know I have at least two sets but previously they were all dumped in a plastic shoe box. I will probably put some of them away to improve the odds that the kids put them into the right compartments.
You can find the stickers at teachers supply stores or follow this link to Amazon.
| | |
| --- | --- |
| Posted by Eilis on August 23, 2011 at 6:25 PM | |
I picked up a set of those uppercase alphabet stamps for $2.50 at the Target Dollar Spot this summer.  I later saw this kindergarten blog post http://keenonkindergarten.blogspot.com/2011/07/dear-target.html where the teacher suggested that she was going to have her students stamp play doh with them instead of ink and paper.  I love this idea on so many levels!  We tried it today.  It is just the fifth day of school, so some of the kids were stamping their names, others were just experimenting with the whole idea of rolling out the play doh and pressing the stamps in.  It was a big hit!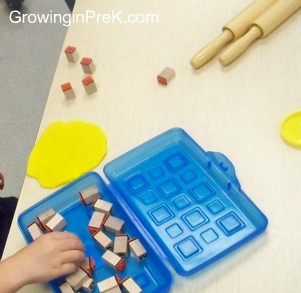 | | |
| --- | --- |
| Posted by Eilis on August 4, 2011 at 4:25 PM | |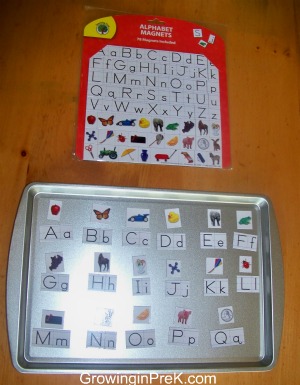 I bought the cookie sheets there as well.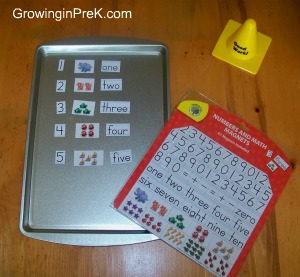 The little yellow cone says "Good Work!"  I think I will put it near groups of children who are working well together.
| | |
| --- | --- |
| Posted by Eilis on July 21, 2011 at 2:50 PM | |
Have I mentioned my new addiction - Pinterest ?!  If you haven't tried it, you really should.  It's like being able to visit hundreds of classrooms and see what teachers have come up with.  (There are other topics there too:  food, beautiful places, quotes, you name it...)  Karen at Prekinders has given an excellent introduction for new "pinnners" on her blog. http://prekinders.com/2011/07/pinterest-for-teachers/ (Yes, I made the list of teachers who have been busy pinning....)  Anyway, I found this basic idea on Pinterest yesterday.  The source was http://secondinshawnee.blogspot.com/.  On that blog it was being used to match homophones (second grade).  It lends itself so well to Pre-K!  I picked up this puzzle at the Target Dollar Spot today.  I wrote matching upper and lower case numbers with a Sharpie and it's ready to go.  (The puzzle has 36 pieces, so some pieces are left blank).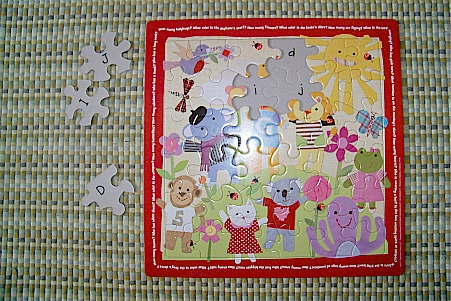 | | |
| --- | --- |
| Posted by Eilis on June 8, 2011 at 12:40 AM | |
I saved these black plastic trays from individual portions of Stouffer's Macaroni and Cheese (frozen).   They are perfect for adding a little salt and letting the kids draw letters with their fingers.  They also fit nicely into a quart size ziploc bag.  Don't you just love the bags with the actual zippers on them?!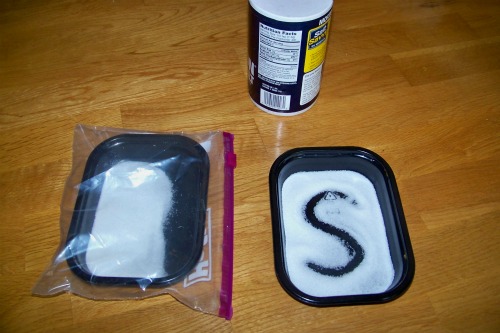 I printed these sheets from www.firstpalette.com.  They work well for matching alphabet band bracelets.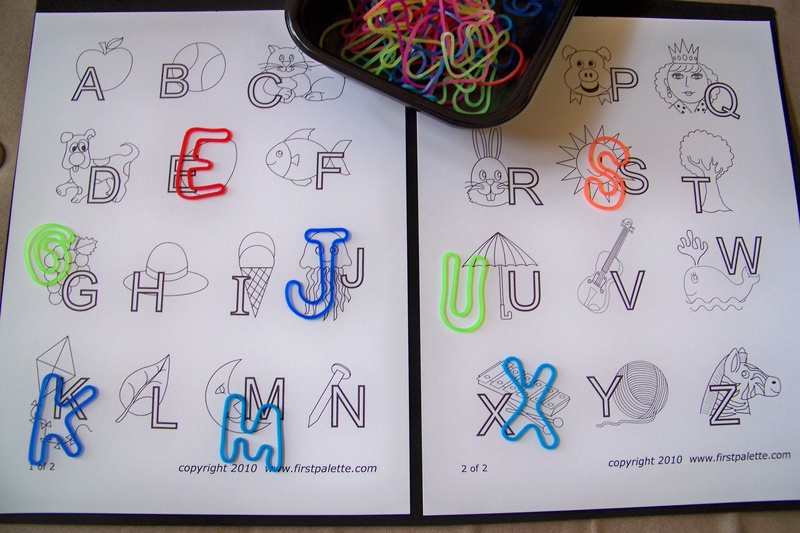 | | |
| --- | --- |
| Posted by Eilis on June 7, 2011 at 9:40 PM | |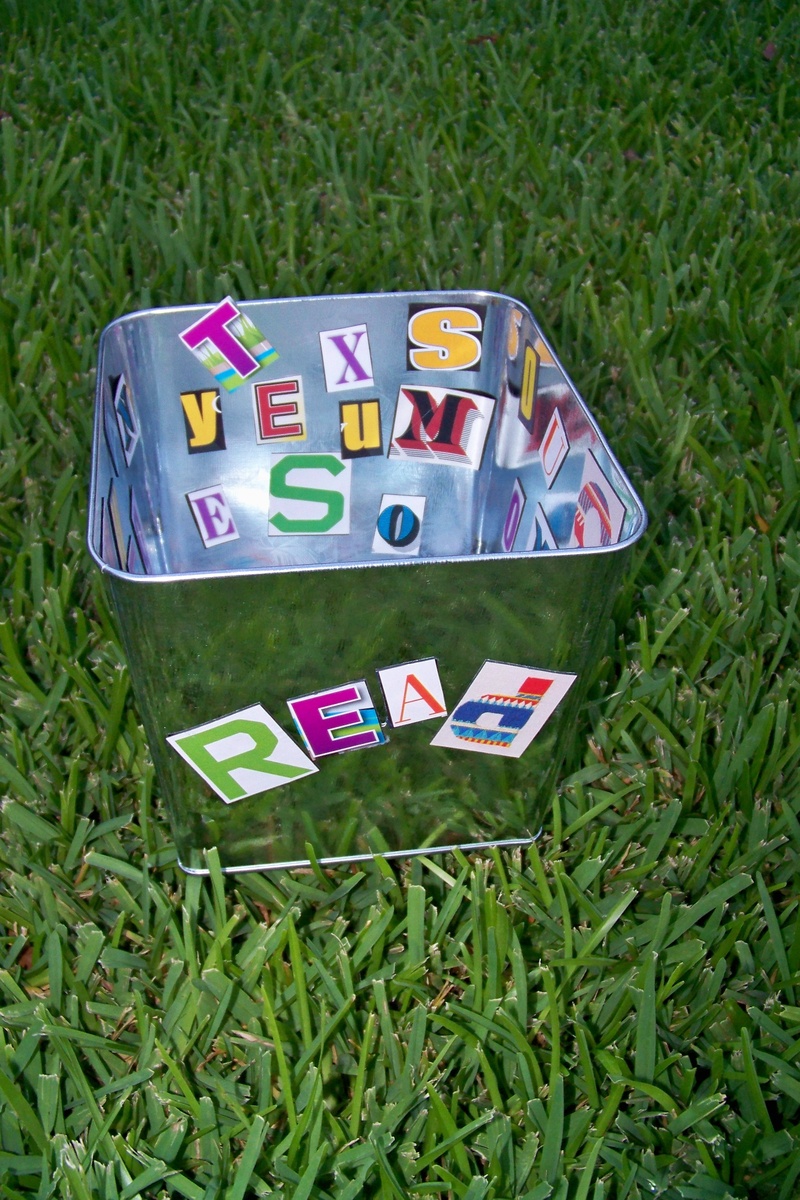 This is another fun idea for the ABC center that I discovered at Pinterest.com.  The original source of the idea is http://www.ohdeedoh.com/ohdeedoh/recycled-packaging-magnets-137520 . So, I cut out colorful letters from old magazines (my son's ESPN Magazines were very fruitful...) and purchased one self-adhesive magnet sheet at Hobby Lobby for $2.99.  I placed all my letters all over the sticky side of the magnet sheet and then began cutting.  This was VERY easy, but if doing it again, I might cut the letters out big and sloppy from the magazines and then tidy them up when cutting them out on the magnet sheet.  Anyway, here is the project.  I purchased the container in the seasonal aisle at Target today for $2.  I love that the letters can be stored in it, and there are four flat surfaces for kids to make words on. 
Below: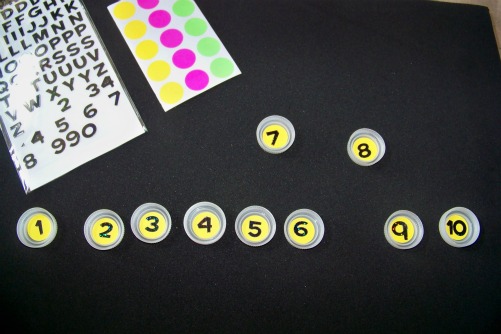 My computer is confused and wants to show you this picture instead of the picture of how to make the alphabet magnets (same picture number).  So, let's just go with it.  I made these bottle cap math manipulatives with garage sale price stickers after seeing the idea on http://msv1stgrade.blogspot.com/search/label/alphabet.
| | |
| --- | --- |
| Posted by Eilis on May 25, 2011 at 8:35 AM | |
The last day of school was Friday.  Now the part I really dislike...stuffing everything in the closet so the room will be ready for VBS.  So what do I...make new stuff for next year of course!  I have recently discovered Pinterest.com.  I fell in love with pictures of homemade letters using rocks, glass, etc.  I am hoping that this will increase the interest level in the ABC center next year.  It's tough for little black and white letter tiles to compete for a four-year-old's attention in this world of technology.  But....the shells in the science center this month really did, so maybe these will too.   In any case, I had fun making them
!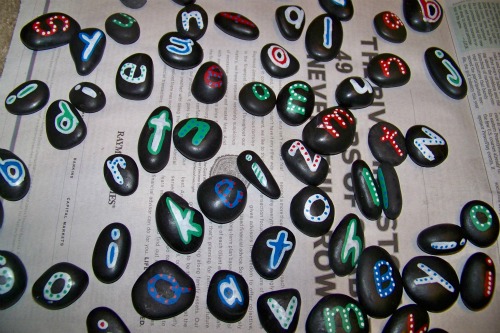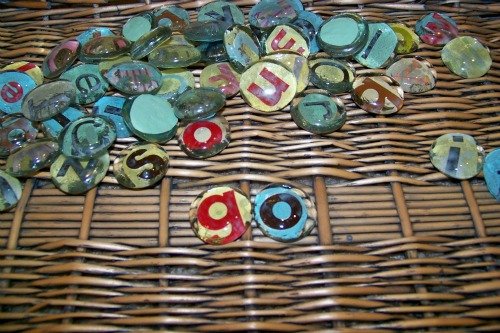 | | |
| --- | --- |
| Posted by Eilis on July 20, 2010 at 7:17 PM | |
I went to a workshop on Literacy Work Stations today.  I couldn't wait to get home and make this font letter sort for the letters a, m, b, and f.  I think it will be helpful for children to see the different ways that lower case a appears in different print.  This printable can be found on the ABC Center page or the Printables page.  I plan to print it on regular paper and have students cut out the squares, sort the letters, and glue them on the appropriate columns.  This could also be printed on cardstock and laminated for repeated use.
/